If your guitar sound just isn't rock n roll enough, you have a few options to help you fix the problem. You could upgrade your guitar— but this alone is unlikely to change the sound or hugely improve quality. You could indulge in some rock n roll behavior—like smashing up your guitar on stage—but that will leave you guitar-less. The third–and most sensible—option is to invest in a good quality distortion pedal to change up your sound affordably and without destroying anything.
To help you out, we have compiled a list of the best distortion pedal reviews to discover which reigns supreme and save you valuable time. You can thank us later.
Our Top Pick

If you don't even have time to read this entire roundup, our top pick is the Electro Harmonix Nano Big Muff. This pedal offers a range of benefits with very few drawbacks and is sure to work well for a variety of musicians.
The Best Guitar Distortion Pedals
Last update on 2023-08-31 / Affiliate links / Images from Amazon Product Advertising API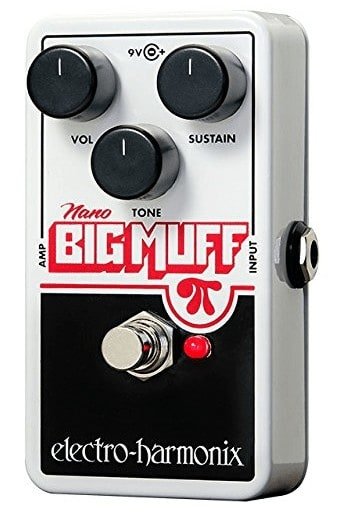 The tone of this pedal is what helps it to stand out from the crowd and helps it to earn its place as one of the best distortion pedal options. It can range from classic to quirky at the touch of a button and offers true versatility with every use.
Key Features
Great distortion
Compact and easy to transport
A 9-volt battery is included – external power supply also available
Three control knobs – Volume, Sustain, and Tone
What I Like About This Product
This pedal puts you in control, largely through the three-control knob included. The volume control allows you to control the level of distortion, the sustain control helps adjust the level of sustain, which is present in the sonic mix, and tone control helps decide the color of the effect. It is super easy to make tiny adjustments, which make a significant change to your sound.
What I Don't Like About This Product
The pedal offers a fantastic sound through a solid state, but it would be interesting to see how the sound would be enhanced and improved if a tube was added.
Pros
Offers a unique sound
Easy to control and adjust at will
Clearly-labeled controls mean this is easy to use
Cons
External power supply not included as standard
The versatility of this option is what helped it bag the top spot, and it is the perfect pick for novices and experts alike looking to master more control over their end sound.
Overall Rating: 10/10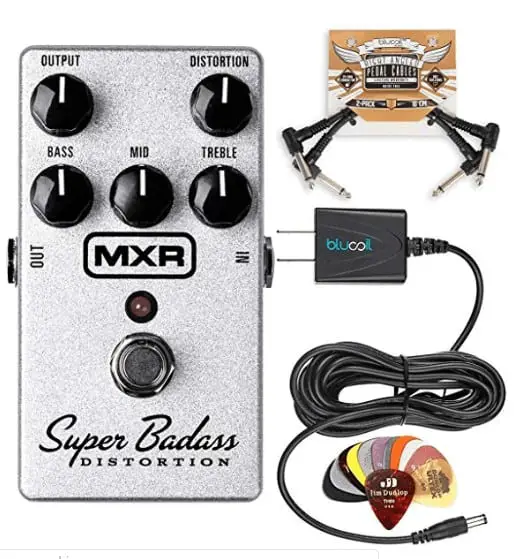 Stylish, simple, and super badass—this is an excellent combination for a pedal that offers you choice and the chance to experiment, all packaged up in a portable and compact body that can be adapted to any situation!
Key Features
100-percent analog
Includes true bypass for clear sound
Bass, mid and treble controls
Full-spectrum distortion
Highly responsive
What I Like About This Product
If you are looking to blend modern tech with a vintage vibe, I can see this being a huge appeal. There are five controls to help you gain total control over the result and adjust the distortion as needed.
Those options are output or level control (the amount of distortion), distortion, bass, mid and treble. These work together to serve as the EQ control of the pedal. The overall effect is of a versatile and flexible pedal.
What I Don't Like About This Product
This pedal is really only suitable for performers in gig spaces and venues. The output volume is way too loud for every day, bedroom rehearsing.
Pros
Offers a clear, clean sound to start with
Five control options allow you to play with sound variety
Compact, sleek design that is easy to transport
Easy to use, even for beginners and newbies
Cons
Output volume is deafening—this may not be appropriate for at home use
I have heard this pedal described as a 'jack of all trades,' and this seems a fair conclusion. It offers clear, vibrant sound at the touch of a button, and is ideal for musicians and performers in any venue.
Overall Rating: 10/10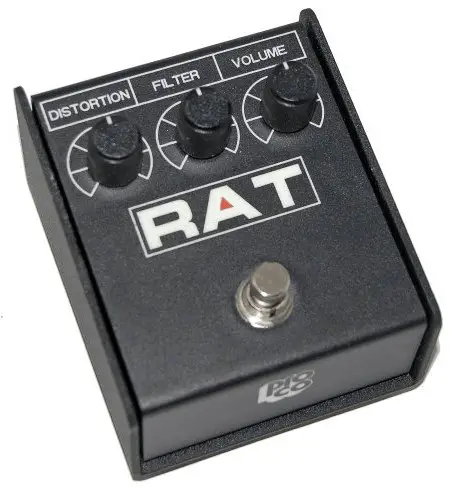 Pro Co is steadily building a name for themselves in the business and carry on earning their fantastic reputation with this offering, which is worth an exploration when discussing the best guitar distortion pedal. Their latest model is fun, dynamic, and effective, and will boost any tune.
Key Features
Uses RAT 2 as a boost for any solos
Used as a primary distortion
Strong, sturdy construction
Three knobs for more choice
What I Like About This Product
The super sturdy nature of this pedal is a big appeal, especially for musicians who are on the road or traveling a lot. The sound is also fantastic, offering everything from chilled blues to heavy metal. All in all, this is defiantly the model which can be considered excellent value for money.
What I Don't Like About This Product
There is not very much subtlety in the sound here. The focus is very much on hardcore heavy metal, and though there is scope to adjust the tone, this is the primary attitude from the pedal. This pedal is ideal for players in this niche but may be too narrow for fans who need more variety.
Pros
Three knobs – Distortion for affecting the level of gain and distortion effect, filter to help retain the foundation of every frequency, and volume to control the amount of distortion
A very sturdy and hardwearing model which can be transported with ease
Great for boosting and adding more power to solo performances
Cons
Not much nuance or subtlety in the sound – this could be restrictive for some players
This offering from Pro Co contains a lot of power in a tiny package and offers excellent value for money. The choice and variety may come as a surprise considering the affordable budget, but it is a worthwhile investment for soloists.
Overall Rating: 8/10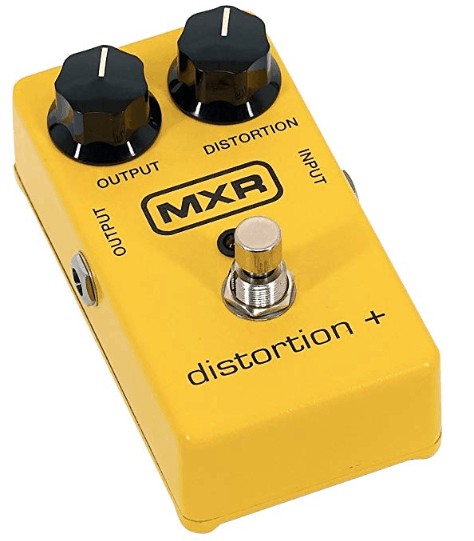 From its eye-catching bright yellow appearance to the tone and sound control packed into a tiny space, there are very few things to dislike about the MXR pedal. It does its job better than well and offers great value.
Key Features
LED light to show if the device os on or off
Germanium-powered, soft-clipped distortion
Output and fuzz-control knob
Offers classic 70's style distortion
What I Like About This Product
If you are looking for hardcore heavy metal, we have found you the best distortion pedal you could need. Producing a classic 70's and 80's rock vibe, you can recreate your favorite tunes from the era perfectly and add a modern twist to familiar classics.
What I Don't Like About This Product
Compared to some other options, the tones of the MXR are quite restrictive. The 80's rock vibe is pretty much the only sound available, and this could be frustrating to players with a more versatile setlist.
Pros
Very well made and designed pedal
Clean, clear sound
Output and distortion knobs to adjust the level of distortion and the level of gain and overdrive
Cons
Quite expensive compared to similar models
Relatively heavy and unwieldy compared to competitors – this could make it trickier to transport
Limited range of sounds and tones available
If you pride yourself on classic rock sound, this will be your dream tool. For those with a broader inspirational era, however, it could become restrictive and frustrating.
Overall Rating: 7/10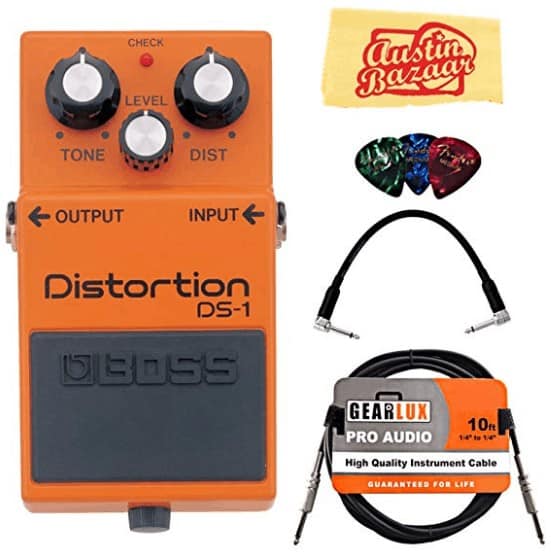 Boss has a fierce reputation in the business, and this latest offering shows that this well-deserved praise is still going strong. Their latest distortion guitar pedal looks set to become a classic quickly and offers a solid, reliable option at a reasonable price.
Key Features
Respected and well-known brand
9V battery (included) or power pack (not included)
Offers variety and range of options for distortion
What I Like About This Product
The variety of this pedal is the best-selling point. It offers everything from recreating old classics to developing fresh new tunes, low ends to high gains, and emulate your favorite artists. For those with a little more confidence and experience, it can also act as an overdrive, making this a versatile and essential piece of kit to add to your package. It can also be modified as you find your sound, so it grows and develops with you as an artist.
What I Don't Like About This Product
The sound could be slightly clearer, but there really is nothing to gripe about for the affordable price. My only other concern would address the lack of included power pack. The battery has a short life, and it can interrupt the flow when it suddenly dies mid-show.
Pros
A classic trusted style
Can also operate as an overdrive with a little practice
Offers a vast variety of uses and styles
Cons
Power pack not included as standard
The sound could be a little sharper in places
If you are just starting or looking for reliability, this could be just what you have been searching for. It is accessible for any budget and comes from a company who has proven time and again that they know what they are doing in the world of guitars.
Overall Rating: 9/10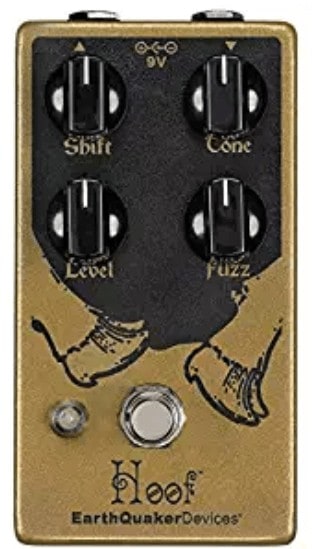 EarthQuaker is another famous name in the world of guitar effects pedals, and they continue to earn their stripes by offering one of the best distortion pedal options on the market. From smooth and sleek to downright dirty, this pedal provides versatility and the chance to let your creativity run wild.
Key Features
Shift control to change and adapt frequency response of tone control
Clear, distinctive effect
Smooth sound
A variety of tonal shaping options to choose from
What I Like About This Product
EarthQuaker has taken everything which worked from previous pedals and modernized them enough to inch ahead of the competition. There is enormous variety possible with this offering, and the range of sounds and effects available are valuable to players of any level. This range is a massive selling point and means this is a sound investment.
What I Don't Like
Compared to some other models, this pedal can be very loud, and the stomp button is also tough to click. This aspect is frustrating and can interrupt the flow of play.
Pros
Wide range of tones and sounds
Very powerful sounds
Octave switch adds something a little different
Great flexibility
Cons
A little loud compared to other models – this may not be an excellent choice for at home practice
Issues with the stomp button can be frustrating considering the price paid
Overall, this is a great investment piece which offers flexibility and variety to your tones and effects. It is a great way to get your hands on a creative wonderland in a single pedal and is perfect for those looking to play around with different tones and variations.
Overall Rating: 8/10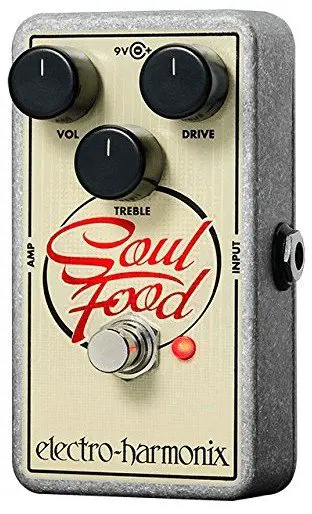 A favorite of amateurs and celebs alike, Electro-Harmonix is a well-known name which consistently delivers. The Soul Food pedal is no different and offers simple, basic functionality combined with impressive sound quality.
Key Features
Compact design for easy portability
Super responsive system
Transparent overdrive
Boosted power rails provide definition and extended headroom
True bypass or buffered-bypass modes
What I Like About This Product
My favorite aspect of this pedal is the simplicity it offers. There are three standard control knobs: volume, drive and treble, and these combine to create a simple yet effective pedal which offers fantastic sound output at an affordable price, and a system which is easy for newbies and experts alike.
What I Don't Like About This Product
The tone can be a little reedy if used alone, and there is a lack of extra overtones. For the price, however, this is a trustworthy and reliable bit of kit which will add a brilliant boost to the sound quality and effects of your guitar playing.
Pros
Simple and functional
Easy to use for any experience level
Compact, classic design
Cons
Likely to be too basic for more experienced players, or those who need more variety
My favorite thing about this offering from Electro-Harmonix is that it does exactly what it says on the box. There are no hidden features or extra surprises, and this makes it a solid investment for those looking for a basic, functional distortion pedal.
Overall Rating: 8/10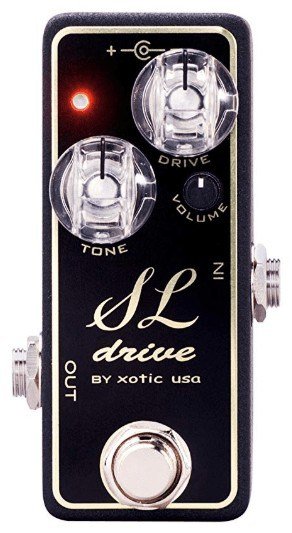 If you are looking for a budget option which offers basic features but top quality, this choice from Xotic could be the ideal solution. There is a lot of power in a tiny package, and the affordable price makes it suitable for players just getting started.
Key Features
Stunning vintage color theme
True Bypass switching for zero interference
Single 9V battery (included) or AC adaptor
Durable Casing
Low price
What I Like About This Product
With this Xotic option, paying less definitely doesn't mean that the quality is reduced. This model is stunning, carefully crafted, and designed for maximum visual appeal. It produces a powerful sound with simple functionality, and this is a great investment piece which offers superb value for money.
What I Don't Like About This Product
The most obvious criticism of this piece is that it is basic. This pedal is ideal for those who are looking for something easy-to-use with a great sound but could be frustrating for more experienced players who need something more expensive.
Pros
Stunning design
Robust and durable
Offers fantastic sound for the budget
Four switches, emulating original vintage models
Great vintage sounds
Cons
Likely to be restrictive for more experienced players who need a more expensive option
I like this pedal mainly for its effortless simplicity, and the gorgeous design is another significant benefit. If you crave a vintage edge to your sound, this could be your dream option.
Overall Rating: 9/10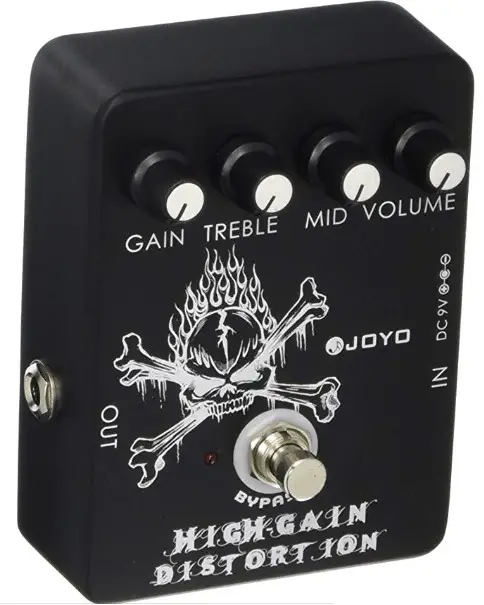 This pedal from Joyo offers a top-quality distortion sound which puts everything from heavy metal to rock n roll firmly in your reach. You can create the effect you want and allow creativity to take over with confidence!
Key Features
Easily alter the level of distortion
Include a range of on/off transitions
Input and output jacks
9V battery included
Bright LED for convenience
Dual band EQ
True bypass for clearer sound
What I Like About This Product
This model offers a great distortion tone and allows you total control over the quality and style of the sound. This individuality creates a pedal which is fantastic value for money and offers a versatile and unique range of options to tailor every time to your taste.
What I Don't Like About This Product
There are only treble and mid options available, and this could be restrictive for those used to a greater variety of choice. It is also slightly heavier than alternative models.
Pros
Offers a clean, clear sound
Good range of distortion options
Cool and fun design
Allows you to enjoy a variety of music types
Cons
Batteries drain very quickly, even with less frequent use
Quite heavy – this may make transporting it trickier
Lacks options compared to more expensive models
Instantly distinctive thanks to the cool skull design, this is a great basic pedal which offers distortions aplenty, and is a great value buy for the price. Those after something more complex will need to up their budget, but this is a great find.
Overall Rating: 8/10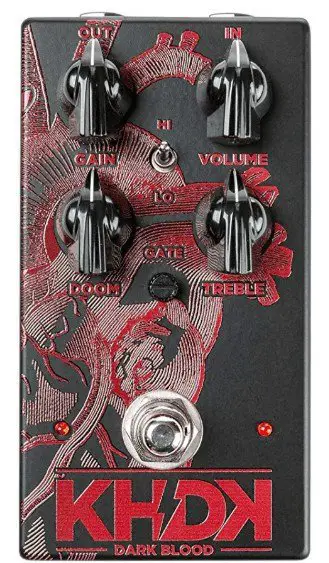 With a distinctive design and a rich, powerful sound, this pedal from KHDK is a fantastic choice for those players looking for something different and dark to add to their musical repertoire.
Key Features
Tube-like, mid-heavy tone
Added high gain
Amp-like sound
Range of settings for more options
Aggressive dynamics
Built-in noise suppression
What I Like About This Product
This pedal has a lot of power, and it is unapologetic about it. The sound is rich and rocky, with lower or higher settings to create a sharp tone, or an overdriven drama depending on your mood. The control you have over the sound is unparalleled and offers a cool, controlled experience which pushes your creativity to the limit.
What I Don't Like About This Product
There is nothing subtle about this model – it is an in-your-face metal-fest, and there is no quiet, subtle, or particularly natural tone.
Pros
Unique design
Offers powerful, amp-like sound
Fantastic treble control
Gives you total control over the sound you create
Cons
Not a suitable pick for those looking for a subtle or natural tone
If you are a committed metalhead, this may be the best pick for you. It is fierce, aggressive, and takes no prisoners – an exciting combination to add to your guitar playing.
Overall Rating: 9/10
Buying Guide
Before we can truly understand and appreciate the art of purchasing the perfect distortion pedal, we need to make sure we fully understand the range of effects available, and how they work.
What are Guitar Effects?
Also known as FX, effects are circuits and devices which process the electronic signal input from an instrument or microphone. In the early '90s, manufacturers of guitars and other music gear began to try and recreate the sounds of classic effects, vintage amplifiers, and older instruments. This developed into speaker cabinets, microphones, and amplifier heads, as well as creating effects which imitated different microphone placements and heights.
Nowadays, there is a range of multi-effects units and amps, stompboxes and mics which aim to create increasingly realistic and authentic sounds and effects, as well as those which push the limits of reality to create heavy metal or crazy sci-fi sounds.
Musicians can push the limits like never before and be creative and wild with their compositions in a bid to find that elusive signature sound. The guitar or bass acts as the base, and the effects build n this to create a colorful, dynamic soundscape in which to play and explore.
Effects transform the sound of your music, giving it new life and soul, and revamping familiar tunes. There are a variety of technical benefits, but they also offer the chance to have a lot of fun and get back to loving your instrument. From strange but hilarious noised to recreating the soundtrack of a Star Trek movie, you will come to explore and understand your guitar in a different way, and effects can be a great way to let loose and play with your imagination.
Distortion Pedals
Buying a distortion pedal may seem a simple undertaking, but it is actually a personal experience which depends hugely on your preference and playing style. It is usually the first choice for a new player looking to change up their sound or add effects to their playlist, and they have the remarkable power to transform the sound of your guitar into something unique and individual.
The world of distortion pedals is a complex one, ranging from blues to metal, and everything in between. Making a choice will depend on your ideas and playing style, but there are a few key features to bear in mind.
Analog vs. Digital
The first thing to consider is whether analog or digital sound is a better pick for your needs. Analog was the first option available and is still touted by some purists as a higher, more elite quality.
It is true that analog signal is less prone to loss, therefore producing a technically purer sound. In addition, digital conversion can mean that some natural quirks of the sound are lost in translation, and the result can be more 'processed' than a genuine, analog alternative.
All original effects up to the '80s were based on analog circuitry and worked through the direct modification of an actual sound signal. The '80s is also the era when digital sound processing blew up—this is the process of converting the output of an instrument to a digital bitstream. This stream is then modified by digital circuitry, before being translated back to analog sound signals for the output. Initially, digital effects were based on existing effects, but as technology developed and evolved, effects grew, which could shift pitch, create delays, and process harmonies.
While these are accurate endorsements for analog, the fact remains that technology has advanced to the point that digital effects are now almost indistinguishable from their analog counterparts, and they have become the choice for professionals and players of all levels thanks to the range of tones and effects which can be produced with a single piece of kit. Multiprocessors allow for a single unit to create a whole host of sounds and expand creativity and possibility every further.
Distortion vs. Overdrive
In addition to analog versus digital, it is crucial to get your head around the distortion versus overdrive argument before making your purchase. In the simplest terms, distortion offers a thicker, heavier effect, while overdrive is slightly warmer and milder—a more natural sound than the intentional brashness of a distortion.
Cranking up a tube amp will create a sound which is warm, rich, textured, and harmonically pleasant. It isn't clean, but there is good note articulation, and the basic characteristics of the amp are retained. This is an overdrive and is achieved through a good-quality overdrive pedals. It also tends to be a more controlled, measured sound than the intensity of distortion.
Distortion, however, takes things to another level. Healthy tube amps can be pushed into overdrive, but need an extra kick to distort, and this is where the pedal comes into play. Pedals offer a thick, heavy distortion–one which cannot be achieved simply by cranking up the tube amp.
Presets
Presets are another important consideration when choosing your pedal, as they help to determine how much work you will have to do 'live' in the scene, and how much is prerecorded. Most multi-effects units and single-effects boxes will offer presets, whether they use modeling technology.
These are an accepted part of most kit boxes and will come with a complete setup or factory presets including effects already applied and edited to produce a specific sound. These can then be adapted, tweaked, and altered, and give you a good base to start your sound from—especially helpful for those just starting and struggling to find their sound.
One of the major advantages of presets is that they can save a considerable amount of time and effort. You can do the hard stuff before your performance, spending hours tweaking, playing, and adjusting until you achieve the exact sound and effect you want.
Creating presets is a creative process and a huge part of the fun. It's also a valuable method to discover just what you want to create and achieve, and the direction you want to take your music in now and in the future.
Some purists criticize presets, especially those which come as part of the factory settings, as they fear it can hamper natural creativity and lead to a generic sound throughout the industry. I would argue, however, that this is a narrow view.
With so many effects available, even when limited to the category of distortion or overdrive, it demonstrates a lack of imagination to consider that all tunes will sound the same. Used correctly, presets are taken as a sketch outline for musicians. They provide a basic structure and composition, which is them adjusted and filled in by the artist to create something new and original. Many people may receive the same sketch outline, but what they choose to do with it to reach the final product is the part that matters.
Presetting your distortion is a great way to be prepared and add that extra edge into your performance at the crucial moment. The hard work is already done and prepared—when the beat drops, you simply press a button for a seriously impressive sound.

How to get the best from your distortion pedal
Even when you have purchased your distortion pedal, it is not enough to just plug it in and start playing. Take your time and learn everything you need to know, and you will ensure you get the best from your new toy.
Read the manual
Reading the manual may seem a waste of time, especially if you are experienced in using distortion pedals, but taking an hour or so to read and understand the manual is guaranteed to dave you wasted time, effort and frustration later. Each model is slightly different and does things a different way; make sure you know what to expect, and a simple issue won't floor you down the line.
Start as you mean to go on
The key to maintaining a great sound is to look after your equipment correctly, and this should start from the minute you bring it home. Distortion pedals work hard while in play, so be gentle with them when moving and handling. Only plug in power cords and amps when the supply is not live, and always turn off the amp and switch to clean channels before you unplug— your kit will last longer and sound better when performing.
Learn the factory settings
The theory goes that to break the rules, you first have to learn and fully understand them. Breaking in your new distortion pedal is no different. Start by setting the pedals to default—either noon or zero, depending on your model. Always start from this point before dialing in the desired tones and effects.
This is an excellent habit to get into early on, and will help to protect your kit, improve your sound, and increase your value for money; nobody wants to be paying out for a new pedal every few months because you have mistreated the old one.
Final Thoughts
When it comes to the picking the best guitar distortion pedal, our top pick went to the Electro Harmonix Nano Big Muff. This pedal is versatile and adaptable, allowing you to control volume, sustain, and tone with little effort, creating a unique signature sound which is sure to stand out from a sea of similar inspirations.
In a world where technology is advancing, it is vital to get the basics right, and playing with distortion effectively can make a massive difference in the overall performance of each and every note. The Electro Harmonix pedal is sleek, sophisticated, and bursting with possibilities for the creative mind.
We're not saying it's going to be the best choice for everyone as some prefer phaser or double bass pedals—as we said the best pedal for you is going to depend on the sound you're trying to achieve—but it's going to be the best pedal for a good deal of users, and is a great place to start your search.