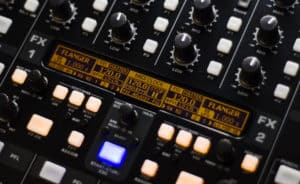 There was a time when Behringer had a pretty spotty track record when it came to the quality of their products. While that is no longer the case, that period of uncertainty definitely did a mark on their customer base.
Because of this a number of their better products went completely under the radar. You know that saying, good news spread quick, but bad news spread quicker.
This misplaced stigma is still being felt even though Behringer has upped their game significantly. One of their better products in recent years is the topic of our article today.
>> Behringer DDM4000 on Amazon <<
What we have in store today is a Behringer mixer that is probably one of the hidden gems of the industry. The DDM4000 promises to be one of the best models in its category, loved by professionals and enthusiasts alike who chose to turn to Behringer for their needs.
Let's take a closer look at this mixer and see what makes it so great.
DDM4000 is Behringer's flagship DJ mixer. It's the top of the line model in their spectrum. When you first look at it, you do get somewhat intimidated. After all, it's absolutely full of all kinds of buttons, faders, and knobs.
However underneath this chaotic appearance lies a well though out order. Everything is in a place where you would want it to be and the layout comes across very naturally once you figure out the basics. The unit itself is very well made, with quality components and a housing that feels very sturdy.

  Features
A closer look at the DDM4000 reveals that it contains all the standard features that you would want in a mixer of this type, placed in a very intuitive place. The center of the unit is where you will find four channel clusters. Underneath are your cross faders with master controls on the top right and microphone controls on the top left.
The main difference is that each of these are surrounded by an assortment of additional controls. For example there is a microphone setup button that allows you to add effects to your mics, assign cutoff frequencies and so much more.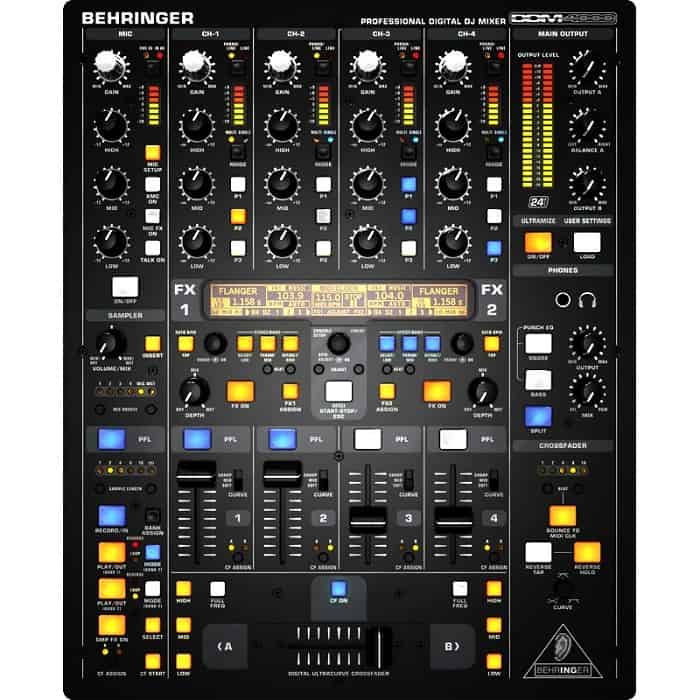 Additionally
you can assign cutoff frequencies for each EQ knob on every channel strip
. It's the little details like this that make this Behringer mixer so attractive. You have all your standard controls, but there's another dimension of fidelity that you can access if you feel like it. Those who have a specific sound in they want to achieve will find these extra features to be a must have.
Cross faders are where this thing shines. Before we get into the way they function, we must say a word or two about how they feel. At a first glance they seem heavy and robust, but they move like a hot knife through butter. These cross faders are so easy to use with accuracy. Simply impressive.
You have the option of dialing flexible curve adjustments and synchronized cross fading is also there. If you want, you can remove the faders from a channel through EQ kill buttons if you want to use third-party ones.
All the effects are being powered by two dedicated effects engines and an additional one that works on microphones alone. There are numerous individual effects such as delay, echo, phaser, flanger and more, which you can assign independently to each and every channel.
The trademarked BPM technology that is implemented in this mixer allows you to synchronize two different inputs with different BPMs. A pretty neat feature on its own.


When it comes ti the back I/O panel, the DDM4000 comes loaded with a bunch of options,
but not all of them. The main out is a balanced XLR while you also have dedicated subwoofer XLR outputs that are also balanced and can be assigned with a specific cutoff frequency.
There's digital S/PDIF, a secondary RCA, a 5-pin DIN MIDI ports. There are no TRS or USB inputs unfortunately.

  Performance
Like we mentioned before, using the DDM4000 is very intuitive if you have any kind of experience with mixers in general. Once you figure out what each of the additional features is used for, you can really start to push this unit to its limits.
The sheer versatility that it enables you will quickly make you fall in love with it. Just by having the option to replace the cross faders with scratchers, this mixer stands out from the crowd.
The way it's laid out combined with all the additional features make this mixer a great choice for both experienced professionals who need a good workhorse with more flexibility, and aspiring enthusiasts who want to get a good piece of gear right away.

  What we like
In simple terms, Behringer DDM4000 draws you in with its features, and keeps you coming back with its smooth operation. It's accurate, very tactile, and offers an additional dimension of sonic fidelity.
Sure there are probably more advanced models on the market, but this Behringer is holding its ground quite firmly.

  What we don't like
There's not much to criticize about this mixer. The only things that anyone can complain about are marginal details. Maybe the knobs could have been just a tad better, or maybe the bottom plate could have been made thicker. However none of these "faults" impact the overall experience this mixer has to offer.
Final words
Behringer really came about and put together a very competitive flagship mixer. The days of their questionable reputations are long gone, and this unit is the living proof of that.
It's a versatile mixer that gives you some features you won't find elsewhere, and those very features may just be what you were looking for all along.
>> Behringer DDM4000 on Amazon <<
Whether you want to use this thing in your club as a main rig, or you need something to keep up with your aspiring DJ career, Behringer DDM4000 has you covered.
When you put everything down on paper, this mixer beats the majority of the competition without breaking a sweat.