Over the years Serato has become the backbone of DJ software. A good majority of people use it, and swear by it thanks to its abundance of features and general smoothness with which it works.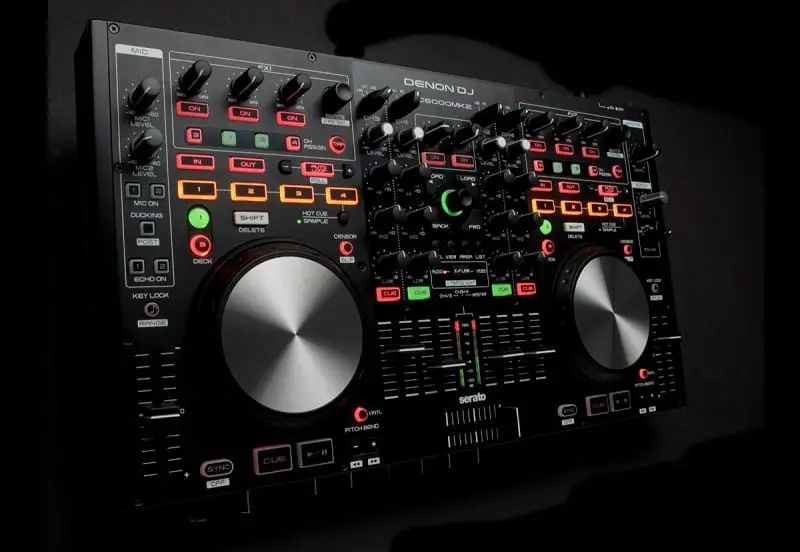 Over time this quality has spawned a whole community of people who are dedicated to helping each other and newcomers solve any issues they have with getting used to Serato DJ.
With that said, it's no surprise that many manufacturers of DJ equipment include Serato as one of the main factors when designing new devices.
Today there are numerous controllers that are either built for Serato DJ, or were designed to be fully compatible with this software. Our mission today is to find the best Serato controller on the market. It's going to be a tough one since there are so many great models to choose from.
We found three great options that will be suitable for different budgets, but all of which work great with Serato DJ. Let's check them out.
3 Great Options Suitable For Different Budgets
EDITOR'S CHOICE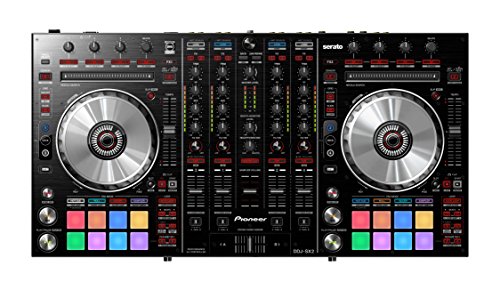 Pioneer undoubtedly makes some of the best DJ devices you can find. Pioneer Pro DJ DDJ-SX2 is just one of them, but it is also one of the more impressive ones in their range of models.
It comes loaded with features, and offers a pretty great balance of price and performance. If you are looking for a workhorse Serato controller that you can rely on to get you through a live set, this Pioneer is definitely suitable for you.

  Features
Once you take the Pro DJ DDJ-SX2 out of the box, first thing you will notice is that it comes with two jog wheel sections in addition to the main mixer. There are eight dedicated performance pads on each jog wheel section for a total of 16.
The 4 channel mixer is designed with Serato DJ in mind which can also explains the dedicated buttons for Serato FLIP. This controller supports Serato DVS upgrade as well.

  Performance
In terms of compatibility with Serato DJ, there are absolutely no issues. This Pioneer was made with this software in mind, and everything about it is catered for use with Serato DJ. When it comes to the controller itself, it works like a charm. This Pioneer is a real workhorse that is simple and comfortable enough to use for longer sets.
The controls are all well made and feel good under your fingers. Jog wheel plates are not too light, nor too heavy. They are pretty balanced and allow for great accuracy on the fly. This Pioneer is definitely something worth considering if you are serious about Serato DJ.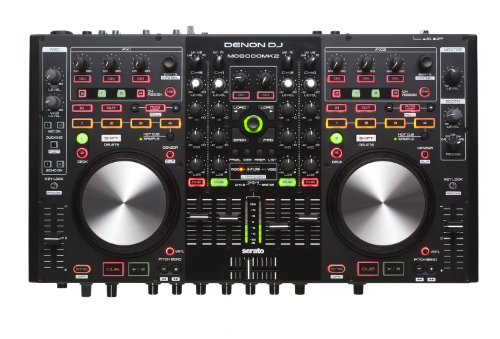 Denon is another company that offers dedicated Serato DJ hardware. Their Denon DJ MC6000MK2 is a perfect example of a controller that just complements the software flawlessly.
It's a slim unit that is somewhat compact compared to other controllers, but it's absolutely packed with features and controls. It also comes with two scratchier sections.

  Features
First thing we can notice right away is the lack of pads. This controller has none, however it does have an abundance of other controls that compensate for this lack of pads. There are two jog wheel sections with FX clusters and other dedicated controls.
The center piece is a 4 channel mixer where you will find your standard EQ and faders.
What really makes this controller great is the 24-bit digital and analog interface that guarantees a high quality of sound.

  Performance
Denon DJ MC6000MK2 is a capable controller that just flows with Serato DJ software. It is fully compatible in every way you can imagine, so no worries there.
The controls are somewhat different but very refined. Everything feels well made and the scratch wheels give the perfect amount of resistance. You can be as clinical as you need to be with this controller. It's cheaper than the Pioneer, which makes it a great option for intermediate users who don't want to commit to more expensive gear.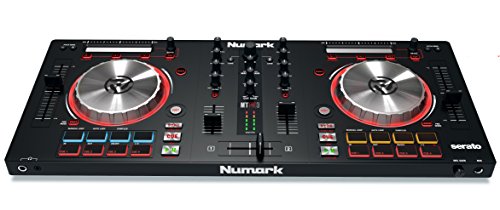 Numark Mixtrack Pro 3 is probably the most affordable controller that is fully compatible with Serato Dj software, which we can comfortably recommend. It's not as complex as the two previous ones we mentioned, but this Numark is more than capable of holdings its own.
It's not a professional piece of gear in a sense that you would probably want something a bit more versatile for stage performance. However Mixtrack Pro 3 just excels in recording studios and home rigs.

  Features
The layout of this controller is similar to the Pioneer and Denon we mentioned. There are two sections with jog wheels that also contain eight pads each, while the center console is dedicated to the mixer. There are only two channels on this controller.
Each of them has dedicated EQ knobs, and faders while the master control cluster also has the pan fader. In terms of connectivity, Numark Mixtrack Pro 3 is very limited. Pretty much the only I/O option is the USB port which is also used to power this controller.

  Performance
In terms of performance there is not hing we can criticize about Numark Mixtrack Pro 3. It is simple, efficient, and just does the job well. Sure, you won't have as many features and controls top play with, but the core experience is definitely there.
If you are looking for a great Serato controller for home or studio use, this Numark is definitely worth checking out.
Conclusion
Finding the best one is not as easy as it sounds. Numerous devices on the market are fully compatible with this popular software. The three we chose to show you are what we consider to be the best Serato controllers at the moment.
The Pioneer is by far the most expensive one, but it is also the most versatile controller on the list. Denon is probably the best value for the money model out there, while the Numark offers full Serato compatibility with the core features in place.