Cutaway guitars are considered to be a niche sub category of acoustic guitars that garner split opinions in the community. One group of people like them because they allow them to reach the higher notes on the fretboard, while others feel that the cutaway design limits the acoustic properties of the guitar.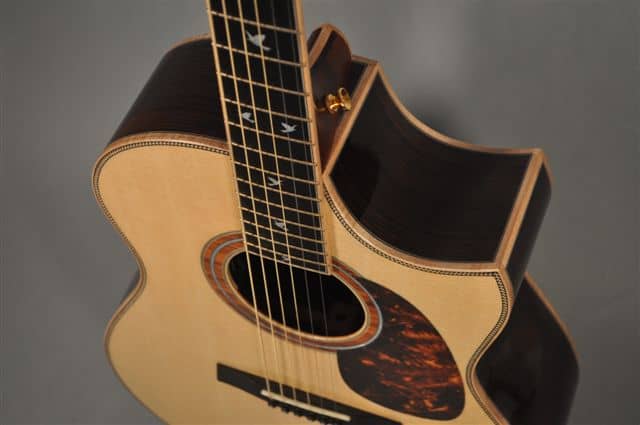 How much truth there is to these claims is up for discussion, however we definitely appreciate cutaway acoustic guitars for what they are.
So you're in the market for an acoustic guitar with cutaway design, but don't know where to start? You're in the right place as we are about to take a search the market for the best acoustic guitar with cutaway design that we can find.
We have selected three such instruments for you to consider, each one offering different features, and belonging to a different price bracket. Without further ado, let's dig in.
What is a good acoustic guitar with cutaway?
EDITOR'S CHOICE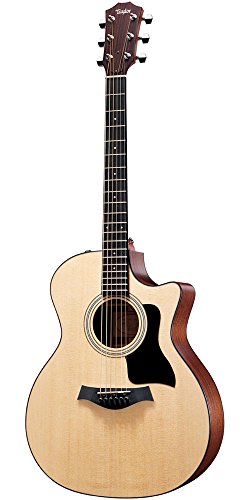 Taylor is one of the leading brands in the industry, and their guitars definitely don't require a special introduction. Their reputation has reached a point where people talk about that "Taylor sound" which is distinctive from other guitar manufacturers. When you reach that point, you definitely don't need any sugarcoating.
The 314ce we chose for this occasion is one of the best acoustic electric guitars in the mid range spectrum of the market.

  Features
Taylor Guitars 314ce sports a solid sitka spurce top with solid sapele back and sides. The guitar features a Grand Auditorium design with a Venetian cutaway so you know it's fairly comfortable to play.
The fretboard and bridge are both made of Ebony while the nut and saddle are made of Tusq synthetic material. This guitar features Taylor Expression System electronics which deliver some of the most accurate acoustic sound over the amp. There are fairly few systems that can compete with this setup.
  Sound
Sound is exactly what you would expect from a mid-range Taylor guitar. It has a bright and clear tone with a lot of projection and very defined mid range response. Bass tones are thick but precise, and you have lots of volume at your disposal.
Once you plug it in, Taylors Expression system takes over with great efficiency. It successfully captures all of the acoustic qualities of the guitar.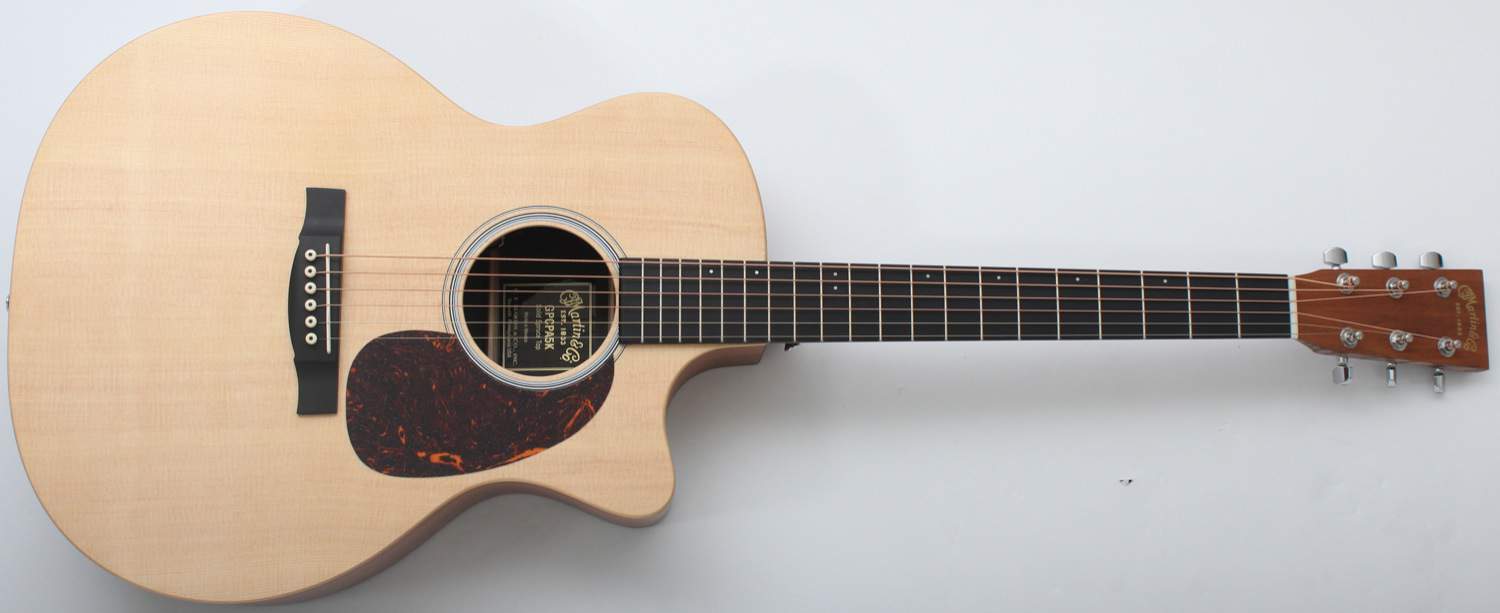 Martin is another big name in the business. Along with Taylor, it's the magical duo of acoustic guitar world.
Their guitars are by all accounts some of the best you can buy, and offer the quality of sound that is on a completely different level. Martin GPCPA5K belongs to their affordable segment of acoustic electric guitars.
It has all the right features, and offers a decent taste of what lies north of this price range. This is a great choice for those who want an instrument with a big name and good quality behind it.

  Features
This Martin features a solid sitka spruce top and koa-patterned laminate back and sides. Yes, for this type of money you'd expect to get at least solid back and sides, but this laminate works pretty well with this Martin.
The neck is a brown stratabond design with black Richlite fingerboard, same as the bridge. Saddle is made of Tusq while the nut is made of white corian. Overall Martin opted to use a pretty unconventional selection of materials. As for the electronics, you have Fishman F1 analog setup.
  Sound
Martin GPCPA5k offers a nice warm sound that is fairly well balanced and full in all parts of the frequency range. The trebles are clear and crisp, while you get warmer and warmer tones the lower you go on the scale. It's somewhat bass-heavy, but that is partially due to the Grand Auditorium design.
It has great volume and projection, although not as huge as a Dreadnought. Electronics are pretty good and able to accurately portray the acoustic properties of the guitar. Overall it's a well balanced guitar that does everything equally well despite it's laminate sides and back.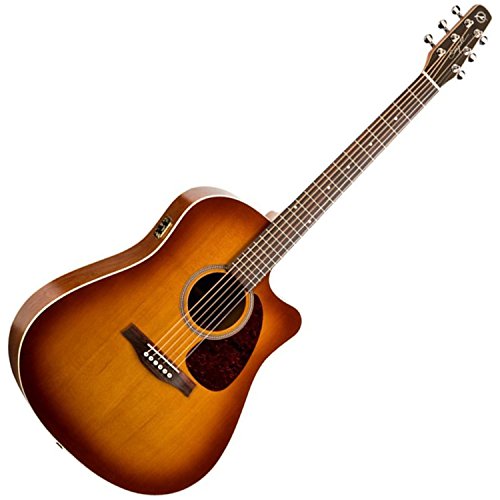 Seagull is a Canadian guitar manufacturer that is slowly but surely making its way to the top. It's what Taylor and Martin used to be before they became huge. Unlike these two companies, Seagull still produces the bulk of their guitars in house.
In a world where finding a North American made acoustic guitar is hard and highly respected, you have a company which not only does all their manufacturing in Canada, but also has a team luthiers who manually build these guitars. That is a level of quality that guarantees a bright future for Seagull.

  Features
Just like most Seagull guitars, Seagull Entourage CW GT QI  features a pressure tested solid top made of select cedar. Back and sides are wild cherry while the neck is silver leaf maple. Just with this information you know this instrument is pure quality.
The electronics of choice are Quantum IT with a built in tuner that works pretty well. The pickup itself is well made and does a great job.
  Sound
Sonic properties of this guitar are outstanding. The trebles are bright and crisp, while the bass is saturated to the brim but has enough subtlety for more refined play styles.
The guitar is just a dream to play. Quantum TI electronics do a very good job at reproducing the acoustics of the Seagull Entourage CW GT QI when plugged in to a decent amp. It's very hard to beat hand made guitar that is produced in North America.
Especially when it comes at a price that almost seems unbelievable.
Conclusion
An acoustic guitar with a cutaway design can easily divide a group of guitar players, but all of them would agree that these three are some of the best in this segment.
Martin and Taylor provide that brand name security and proof of concept, while Seagull just rolls over anything in its path thanks to its outstanding quality and hand made nature. All of these will serve you more than well, no matter which one you choose.