Modeling and solid state amps have their benefits, and have definitely changed the playing field when they showed up. They are affordable, bring a decent sound, and support a whole array of features that make them the optimal choice in most cases.
Some of these amps even come with digital amp emulation, and allow you to choose between dozens of different sounds. However, tube amps still rule the guitar world. This old technology has withstood the test of time, and is still the preferred choice of the majority of professionals in the field.
Tube amps used to come only in big heavy models. Not so long ago, tube amp was synonymous with a huge amp stack that you could usually find on concert stages. These days the situation is different. Manufacturers recognized the demand for small and affordable tube amps, so they delivered exactly that.
We are going to look at some 15 Watt tube amp models today. These small power houses are capable of reaching that sweet spot where tubes produce the best sound much easier, which is why so many people love them. We have three models for you to look at, all of which just impress with their sound.
Three models – Impressive sound
EDITOR'S CHOICE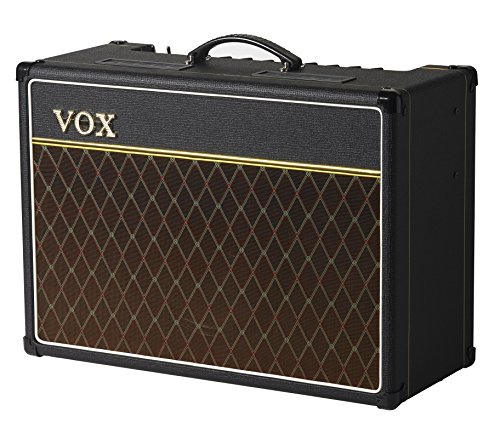 No list of tube amps, even the low power ones, would be complete without having at least one Vox in here. If you ask the older guys which tube amp had the most unique sound, almost all of them would probably point you to the Vox AC30.
Well, these days AC30 has got a smaller brother, the AC15C1, which is definitely bringing on the same vibe as the original AC30, only in a smaller package and for a way cheaper price. If you want to get that vintage British sound, this is your ticket to the wonderland.

  Features
In terms of design, AC15C1 is reminiscent of that classic Vox look. This combo amp is basically a miniaturized version of the AC30. It's powered by three 12AX7 pre amp tubes and two EL84 power tubes. The output is limited to 15 Watts delivered through a single 12-inch Celestion G12M Greenback speaker.
[su_youtube url="https://www.youtube.com/watch?v=mlOHlRItybs"]
When it comes to controls, you have volume and tone cut knobs followed by tremolo control knobs, a reverb knob, and lastly the three-band EQ along with a normal volume knob. The two channels have separate line ins.
  Sound
Where to even begin. The AC15C1 brings back that true Vox vintage sound thanks to the legendary Celestion Greenback speaker, and no nonsense tone controls. If you want sparkly cleans and think overdrives that bring on a serious punch.
The spring reverb and tremolo effects are both analog, and have a completely unique feel of their own. You can leave it to Vox to deliver an impressive tube amp that just impresses with it's unique tone and overall versatility. If you want that old school British grit, this amp is the way to go.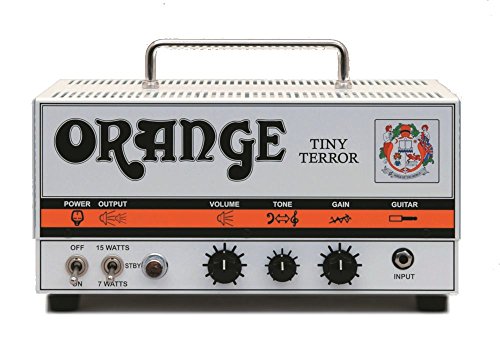 Leave it to Orange to create one of the most bad ass tube amps on the market. This little tiny unusual box hides one of the best tube sounds you can get for the money.
Sure, it's not a combo, and you will definitely need a cab if you want to use this amp, but it's all well worth the effort. For an amp that looks more like a welding machine, Orange has really outdone all expectations in almost all aspects.

  Features
When it comes to features, Orange Tiny Terror comes across as a no thrills amp head made for those who know exactly what they want. It uses two ECC83 pre amp tubes and two EL84 power tubes. The housing is all metal and generally looks nothing like a guitar amp. If you ever seen those older welding machines, that is what this amp looks like.
[su_youtube url="https://www.youtube.com/watch?v=o45D5h2oNoQ"]
There are two switches and three knobs on this thing. One switch used to turn this amp on and off, while the other attenuates the power from 15 Watts to 7.5 Watts. First knob is the volume knob, second one is labeled as tone, and third one is your gain knob. That is pretty much it when it comes to controls you can use to shape your sound.
  Sound
Tiny Terror, we can definitely see why Orange chose this name for this amp. This single channel tube amp head delivers one of the grittiest sounds in this price range. You want clear and crisp clean sound? Just dial down the gain and volume on your guitar.
If you need that saturated overdrive, crank the volume to the max, switch to 7 Watts output, and give that gain knob a push. This thing is just so incredibly versatile for such a tiny amp. It really has that boutique vibe, which is something you just rarely find in this price range.
When in doubt, get Marshall. This is an unwritten rule many have followed. Okay, maybe it's not, but it definitely should be. Marshall amps are some of the best on the market, but it's their tube amps that really bring the best sound.
DSL15C is their version of a small, but loud tube amp that is meant for home practice and studio use. It brings that authentic Marshall tube sound, and a proper tube experience.

  Features
This small amp comes packing three ECC83 pre amp tubes, one ECC83 and two 6v6 power tubes. Combined, this setup delivers 15 Watts of power through a single Celestion G12E-60 12-inch speaker.
[su_youtube url="https://www.youtube.com/watch?v=gaqKt4pWVkY"]
In terms of controls that are available, you have two sets of volume and gain for two channels that are available. Next is your standard three-way EQ with the addition of a presence knob. You have tone shift and deep buttons and finally there's a reverb knob which controls the digital reverb effect.
The cab is a semi-open back type, while the whole amp sports that standard Marshall design. The amp itself is not heavy, and is rather easy to carry around thanks to its compact size.
On the back side you will find a pentode/triode switch that allows you to cut the power output in half from 15 Watts, to 7.5 Watts.
  Sound
When you turn on this Marshall, you get to experience what a true Marshall tube sound feels like. This little amp brings a big sound. The clean channel is nice and crisp, with lots of definition especially in the high and mid portion of the frequency range.
Switch it to overdrive, and you get that classic vintage sound that we all love. There's enough growl in there to play even the more aggressive genres of rock.
By and large..
If anyone told that 15 Watt tube amp can't sound good, that person is fully delusional. These three amps we listed here are the proof that you can have every bit that impressive tube experience in a small and affordable package.
The Marshall is a great general purpose amp with a hard hitting overdrive channel and great cleans. Orange Tiny Terror is in a category of its own. Vox AC15C1 is the new face slapped on the old and proven experience that Vox is known for. All these amps will blow your mind with their sound and sonic fidelity.