Today in amazing guitar deals that will provide you with killer sound at a very affordable price, we are bringing you the Seagull Natural Elements acoustic guitar.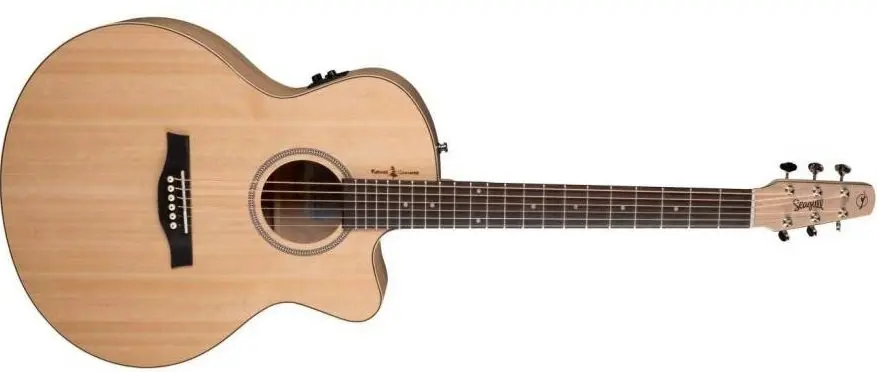 This acoustic electric guitar has all the crucial features and sonic quality aspects a guitarist needs, and is bound to please even the seasoned musicians. We're talking quality wood, quality electronics, and even some nice looks. More details in our Seagull Natural Elements review below.

Features
The guitar utilizes a body crafted from a three-layer lamination of various tonewoodsfrom the Northern Quebec region. Some of the notable options include a Natural Cherry body with cedar top, Heart of Wild Cherry with spruce top or Figured Amber-Trail Maple with spruce top.
Additionally, the guitar has a rather slim neck that will make your playing significantly easier and allow you to deliver your best performance without a hinge. Also included in the mix are classic rosewood bridge and a rosewood fingerboard with a set of 21 frets.
In the electronic department, the guitar features a B-band ACI.5T Electronics set with an onboard tuner to keep the six-string in proper shape at all times.
On the esthetic side, this is a pretty looking guitar with a cute semi-gloss custom polished finish, a distinctive small-size Seagull headstock and a convenient size for versatile playing.

Sound
The sound of this cutie is quite versatile and generally strong. The audio output of this Seagull acoustic electric guitar is warm, with a rich low end, a punchy middle section, and plenty of brightness in the treble segment to even things out.
Depending on the type of gear you might plug the six-string into, the variety of sonic vibes you can get out of it is truly vast. Whether it's rock, country, pop, jazz, or blues, this instrument can handle them all with equal efficiency.
And we're not jut talking about getting the job done, we are talking about delivering a top-notch performance that can resonate among your listeners and truly captive the crowd's attention. Most importantly, it will make you quite happy too.
The listed set of electronics allows equal sound quality in plugged in or unplugged mode, a crucial feature for major gigs if we might add.

What we like
We like that this guitar puts tone first. It truly delivers more than the price tag initially might indicate, and for many guitars, that should be the breaking point for making the sale.
Additionally, we like the durability. We haven't mentioned it, but the guitar is very durable and capable of taking a punch or two during transport or due to frequent use. Although you should treat acoustic instruments with extra care at all times, this makes the Natural Elements more reliable and worthy of your investment.
Finally, we absolutely love the price. We're not sure how the manufacturer has managed to pack such a roaring sound at this affordable rate, and can only give them nothing but kudos for that.

What we don't like
It might be meaningless for some folks, but we might as well point it out – we don't really like the bland looks. If you enjoy the classic natural vibe, awesome. But if you don't, this guitar will trouble you in the esthetic department.
Apart from that, making any kind of remarks about sound quality seems out of place. You will not get a $2000 sound if that is what you expected, but something around $1000 sound is what you can expect, and the listed price is more than two times less.
Seagull Natural Elements Review -Conclusion
To sum up our thoughts, we will point out loud and clear that Seagull Natural Elements gets a major thumbs up from us.
For the listed price, it is very hard to find an acoustic electric guitar with a superior sound. Sure, there might be a few models with equal quality, but significantly surpassing this six-string at the given price is a bit of an impossible task at the moment.
Thus, in a nutshell – killer sound, surprising durability, "buy now!" says the verdict.