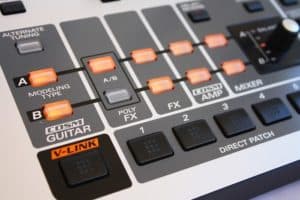 Guitar effects processors appeared in mid '90s and completely turned the world of guitar effects upside down. The first one to hit the market was Roland's VG8. T
here was nothing like it on the market at the time, and the models that followed its release had a hard time delivering up to the standards this incredible device has set. Ever since then, the technology has advanced significantly.
Almost a decade ago, Roland again launched a product that had a similar impact like the VG8. Roland VG99 is a incredibly powerful guitar effects processor that has been discontinued unfortunately.
At the time of its release, it offered an unprecedented amount of control to its users, along with some features that were just out of this world. If you had one of these, there was not much you couldn't achieve in terms of guitar sound.
Let's take a closer look at this beast and see what are some of the features that made it so iconic.
A processor that has been discontinued – Unfortunately
First thing that you can notice right away is that this processor is a desktop unit. Unlike what is commonly seen on the market, there are no stomp switches or expression pedals on VG99.
However, there is a perfectly good reason for this as you are about to read.

Features
One of the most impressive things about Roland VG99 is the fact that it came with two COSMs. This allowed you to play two different guitars with different effects and presets at the same time. Modeling engines they have used in this processor gave you a lot of maneuvering space to work with. You could use different guitar and amp models, layer them in any way you want, and changed them in real time.
In terms of presets and voices, VG99 offered 200 stock ones, and 200 memory slots for your own creations. You will be hard pressed to find that kind of variety even today. These presets emulated a whole array of amps, guitar models and even other instruments. You could find synth, and bass guitar emulations in this library among other things.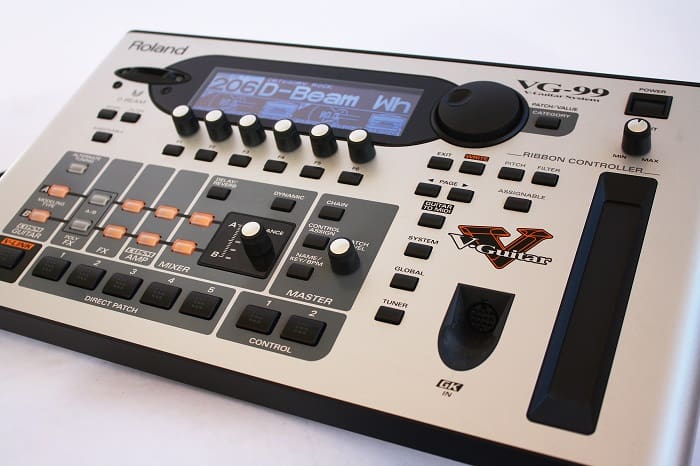 Remember how we said there is no expression pedal? Well, Roland VG99 solved this in a completely different way. Instead of an expression pedal, this processor has what they call D Beam and Ribbon controller.
What these features allow you to do is to control tremolo and other effects by hovering your hand above the sensors.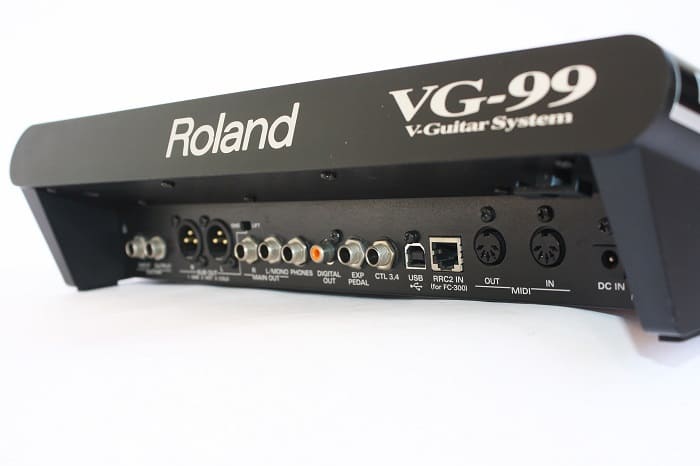 When you first use these features, it feels like you are in a science fiction movie or something. Even though this may sound confusing, D Beam is actually very practical and comfortable to use once you figure everything out.
With that said, there is an additional pedalboard controller you could get for VG99, which allowed you to use it just like any other processor.

  Performance
Roland VG99 is still one of the best processors you can get hands down. It's easy to use, and comes with proprietary software which allows you to pre program all of your features on a computer.
The presets feel very natural for an effects processor, and their sheer variety make the VG99 a tool you will want to have at your side.

Aside from great emulation, other effects are great as well. Using D Beam and Ribbon Controller takes some time to get used to, but it becomes second nature once you do so.

  What we like
Even though this processor is about ten years old at this point, as is no longer available, it is still one of the best guitar effects processors around. The sheer level of control is impressive.
You could do just about anything you want to your tone with Roland VG99. That is something that commands respect no matter how impressive today's processors are.

  What we don't like
The only thing we don't like is the fact that VG99 is no longer available. Roland really dropped the ball by discontinuing this processor. Hopefully, we will see a new model soon.
Conclusion
While it is definitely not your typical effects processor, Roland VG99 showed us just how far this technology can go.
If you can find one of these, we strongly suggest you don't pass on the opportunity to own one. It is too much of a powerful processor to ignore.