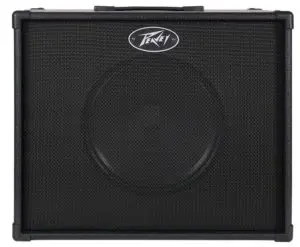 There are two types of guitar players out there – those who prefer heads and those who like combos more. Both of these have their own pros and cons, but ultimately it comes down to personal taste.
The only thing that complicates matters when it comes to amp heads is the fact that you need some sort of speakers in order to hear the sound from the amp. Usually, same brands who make these amps will also have a cabinet to match it. Peavey is no exception.
Depending on the size of the amp, you can get different cabs. However, one of the most common combinations is 4×12, or in other words, four 12 inch speakers packed in a box we call a cabinet. However, there are smaller designs which are suitable for compact amps.
A perfect example would be Peavey 112 speaker cabinet. Peavey speaker cabinet is generally what you want to use with Peavey amps, and today we are going to do a review of a good one.
An Overiew
To most guitar players who are using amp heads, choosing the cabinet is every bit as important as choosing your main amp. Every speaker has a tone of its own, meaning that you can have a limited impact on your sound simply by changing the cabinet for something different.
This is where guitarists also bump heads all the time because there are many different cabs with different speakers and speaker configurations. In most cases it comes down to personal taste, but there are also some known solutions.
A Peavey speaker cabinet is usually going to be great, no matter which model you go with. The one that is has been popular lately is the Peavey 112.

  Features
This cab comes in a very simple looking case that is all black aside from the white detailing which is only seen lining the front speaker grille. Speaking of speakers, you are looking at a single 12 inch Celestion Greenback speaker that is capable of pushing out 25 Watts of pure sound.
How good are Celestion Greenbacks is known from their application in other, more popular amps and cabinets. It's worth mentioning that Greebacks are the favorite speaker of a number of legendary guitar players. This should tell you that this Peavey is not your average affordable cabinet.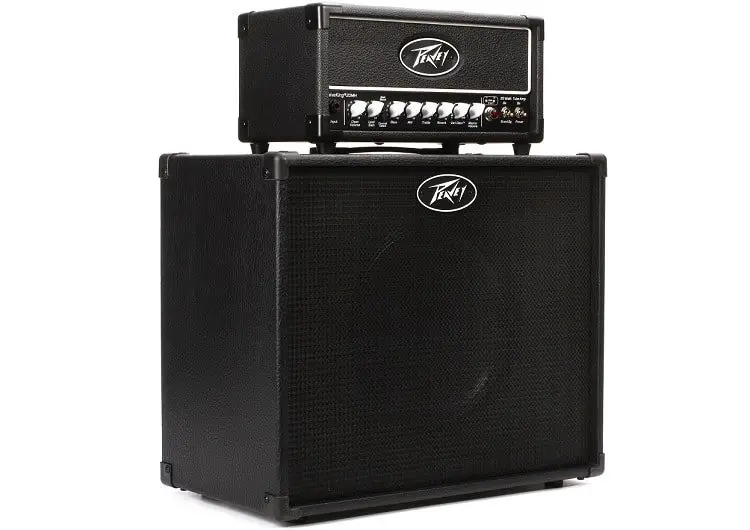 One of the best things about the 112 is that you have the choice of either opening or closing the back as you see fit. The cab as originally made for Peavey 6505 Mini head, although it works fine with other amps of similar configuration.

  Performance
The sound of 112 cab can be described as punchy with a lot of range. If you have heard a Celestion Greenback before, you will pretty much have a decent picture of what this cab sounds like. In general, it probably the best Peavey speaker cabinet in the compact range. Peavey 112 is capable of handling a lot of gain.
This makes it a great choice for more aggressive genres of music, including high gain metal. With that said, this cab can also be pretty subtle should you need it to. It's not made for blues or jazz specifically, but it can handle business on its own just fine.

  What we like
Great tone is the core of any speaker cabinet. Peavey 112 will get you that type of experience with out a single problem. When paired with the 6505, this cabinet comes to light. Great build is important as well. Not only is this cab reliable, but its modular nature and light weight construction make it almost perfect gigging.

  What we don't like
There isn't anything we would want to mention in this section. Peavey 112 is a great cab that comes with a level of versatility you need to tune the whole setup the way you want to.
In summary
Peavey speaker cabinet such as the 112 is great for both home use and performing on stage. It might not have enough volume to do medium size venues, but any smaller gig will be a more than possible with this speaker cabinet.
>> Check out Peavey 112 speaker cabinet <<
If you have a low power amp head and you need a good cab, Peavey 112 is something you should definitely check out.