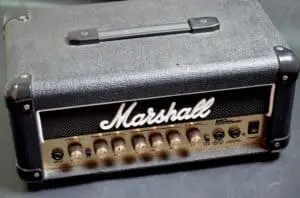 If there's one guitar amp manufacturer who needs no special introduction, it's Marshall. Their brand, aesthetics, and most importantly sound, are known all over the globe.
Generally speaking, a Marshall amp has a very distinctive tone. On average, everything they have to offer will have some portion of this tone, whether it's a super cheap solid state or a very expensive tube head.
So in most cases you don't have to worry about the sound when you purchase a Marshall amp. However, legendary company is not immune on making a quick dollar here or there.
>> Check out Prices & Reviews on Amazon <<
Namely, their Marshall MG15MSII Micro Stack was largely seen as a way to lure people into buying a small solid state amp at a mark up, only because of its appearance. The amp in question was made to mimic a standard Marshall stack, only in a smaller format.
Does this 'combo' have any real benefits? Or is it just a gimmick?
Stay with us as we are about to find out.
Marshall MG15MSII Micro Stack is first and foremost a practice amp that was developed for home use and limited studio use. The head is a 15 Watt unit that is connected to two small cabs.

Features
In terms of features you get overdrive channel controls, standard three-band EQ, and a spring reverb. There is also a FDD button, or the Frequency Dependent Damping.
[su_youtube_advanced url="https://www.youtube.com/watch?v=a0uSrKnkKxQ"]
When you press this button, the amp emulates a more tube like tone. It adds a lot of that signature width only a tube amp has, and generally gives you one more dimension to work with.
Being a solid state amp, you can pretty much expect the standard Marshall quality in this price range. Everything is built well and inspires confidence.
Most of the controversy comes from the overall design of this package, or what it's supposed to represent. Some saw it as a money grab move by Marshall. Whether or not they are right is still up for discussion.
What we do know is that a lot of people god swayed over to the Micro Stack purely due to its appearance and configuration.

Performance
One of the aspects of this amp that was never brought to question was the sound. For all intents and purposes, it's a Marshall. Sure, it's a solid state, but this thing is definitely packing some heat.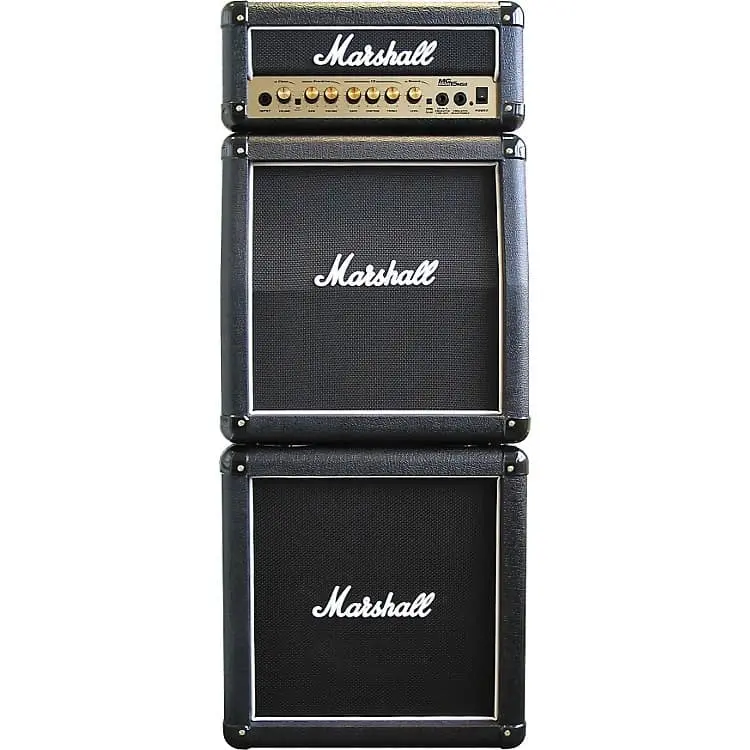 Clean channel is incredible for such a small amp. There is enough clarity and headroom to dial in some pretty versatile cleans. Once you cross over to the overdrive, things get a lot more familiar.
The crunchy distortion Marshall's solid states are known for is there in full force. You can scoop mids and get a very beefy rhythm tone that works good for rock and metal alike. FDD switch adds a whole new layer of tone to both the cleans and overdrives.
Finally, the reverb is good. It's doesn't feel as organic as we like them, but it's more than decent.

What we like
Great Marshall tone doesn't change no matter what kind of package it comes in. This amp is a perfect little practice setup that doesn't disappoint.

What we don't like
In all honesty, the micro stack form factor looks kinda gimmicky from our stand point. That isn't to say that other people have to agree, on the contrary. But we definitely have notice that Marshall priced this particular model a bit higher just because of its form factor.
In summary
Marshall MG15MSII Micro Stack, a gimmick or not? Well, it comes down to this. If tone is all you're after and you want something that is more interesting to look at than a standard combo, this amp is great.
However, if you are a purist, the stack form will probably look silly to you. Compared to regular Marshall combos, this amp doesn't really have anything special to offer aside from the way it looks.
>> Check out Prices & Reviews on Amazon <<
We personally don't see the appeal, but to each their own. As far as we know the Marshall MG15MSII Micro Stack was discontinued some time ago, but it was replaced by the MG15FXMS.
The latter is actually a more modern amp in terms of features it offers, making it somewhat better overall.