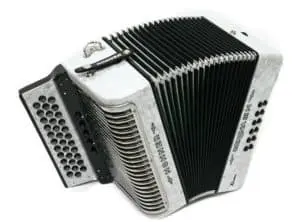 Accordions are among the oldest instruments still in use today. Their sound is very specific, and their method of operation is a thing of beauty.
Being so complex, and they definitely are, making a good accordion takes a lot of time, knowledge and skill.
In all honesty, there aren't many brands out there who are capable of giving you the type of performance you would want if your skill was on the professional level. Those who do are well known around the world, and their instruments are usually what you will see the best of the best using. One company that has always been regarded as trust worthy is Hohner.
>> Check Out Current Price & Customer Reviews On Amazon <<
Hohner has been around for a century now, which not only means that they have had all the time in the world to figure out a perfect accordion, but they also know what this instrument is all about.
Their models are not cheap, but you definitely get what you paid for. There is no doubt about that. The one we are going to look at today is Hohner Corona III. This is a very interesting instrument that is built up to very demanding specs.
An Overview
One thing to notice about Hohner is that they very specifically classify their accordions. You can easily know what type of accordion you are looking at just by reading the tag. Differences between them are significant.
Hohner simply makes niche instruments that are genre specific but offer an uncompromising performance within the range of application Hohner has intended for them. Hohner Corona III is pretty much designed for Merengue or Vallenato type music. It is packed with features that support that niche orientation, and is generally built to tighter specs than the rest of Corona series. Speaking of features.

Features
Hohner Corona III is one beautiful accordion. That much is apparent as soon as you pick it up and take a closer look. The materials used, detailed motifs, it's all very carefully designed. Hohner Corona III comes in a variety of keys and finishes. That is something you need to pick depending on the type of music you are playing and your personal taste.
What sets Corona III apart from the rest of Corona series is the fact that it is a three row accordion with three different voices for each row of keys. We are talking about a diatonic class accordion with a single tone color and 12 standard basses. These have six voices, all of which are impressive.
In terms of build quality, everything is spot on. Tolerances are very precise and tight, while you will notice the how every detail on this accordion just fits in flawlessly. This is actually to be expected from a model in this class.
Hohner Corona III was built by professionals for professionals. As such, there is little to no room for error. Not only is it built well, but it is also very reliable. That is a direct result of Hohner's century long experience.

Performance
In terms of performance, you can expect to only the best. Sound that Hohner Corona III delivers is very articulated and defined. There are no leaks or rogue sounds to be heard.
Even when played with subtle velocity, the tone is just perfect. Because of this, Hohner Corona III has been the accordion of choice for many popular artists. People like Jorge Hernandez are known for playing Corona III exclusively. If you ever want to see what it looks like when someone masters an instrument, you should go to one of his concerts.
When it comes to playability, this accordion is pretty comfortable. The weight is some 4,6 kilograms, which means that you can play for a long time before you start experiencing fatigue.
Straps that come with the accordion are great, but you might want to use a set that you are already familiar with. In case that is not an option, or you simply don't want to change the stock ones, Hohner's straps will get the job done while keeping you comfortable.

What we like
There are two major things that we really appreciate about Hohner Corona III. First and foremost, the performance. This accordion is simply a dream to play, no matter how you take or what your playing style is.
The sound is incredibly controllable, precise and articulated. You can apply a wide range of expression and Corona III will keep up with you. Secondly, the build quality and attention to detail you can see on this accordion is just out of this world. As soon as you pick it up, you know you are dealing with a professional instrument that leaves nothing to chance.

What we don't like
There are really no flaws we can find on this accordion. It looks great, performs even better, and is overall the master class of accordions at the moment. The price is a bit exclusive, but then again you get what you pay for and then some.
Conclusion
Finding an accordion that works for your playing style and your genre of music definitely takes some time along with trial and error. Hohner has been around for a while, and people have grown to trust them to deliver only the best quality.
That type of ideology is definitely present in Hohner Corona III. Professional instruments are almost always on a completely different level from anything else you can see on the market, and the is the case with this accordion.
>> Check Out Current Price & Customer Reviews On Amazon <<
Everything about it is impressive, starting from the design and ending with the level of fidelity you are presented with while playing. If you are not sure whether or not to plunge into getting one of these, we definitely recommend that you at least try one out.
It's not easy spending this kind of money on an instrument, but if your skill level and type of music you play require it, you should consider taking the leap. If you do, Hohner Corona III will prove just how much value it has to offer.