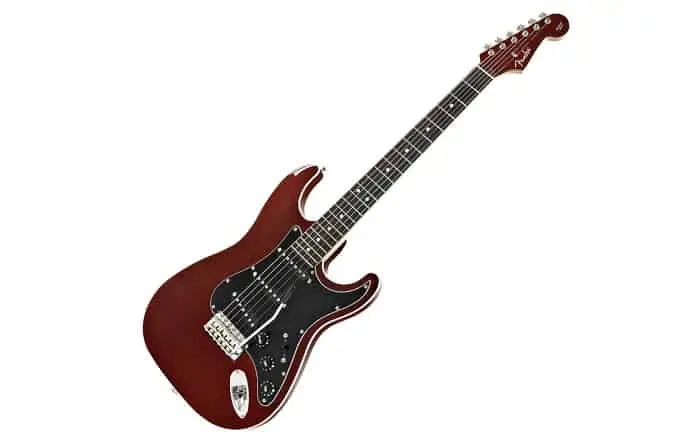 When most people think about Fender Stratocaster, first thing that comes to mind are U.S. made Strats or maybe Mexican made ones.
Not many people know about Stratocasters being built in Japan, which were available on the U.S. market for a period of time, but are now sold exclusively on Japan's domestic market.
>> Check Amazon Price and review <<
Some consider these Japanese Strats to be far better than even the American made ones. As you can probably expect, this caused a lot of debate. Today we are going to take a look at Fender Stratocaster Aerodyne, as they are known, and see what makes them different and what makes them better.
What makes them better?
If you just briefly look at Fender Aerodyne Stratocaster, you probably won't notice many differences compared to the standard Strat. It is when you take a closer look that you start seeing just how much this guitar stands out from the standard design. And rest assured, there are many.
[su_youtube url="https://www.youtube.com/watch?v=ndEkacX9doM"][su_youtube][/su_youtube]
Someone who is not familiar with Stratocasters probably won't find Aerodynes all that strange, however it's the exotic member of this very famous family, and one that deserves more praise.

Features
The first thing that stands out about the Fender Stratocaster Aerodyne is its body. The overall shape is standard Stratocaster, however the top is arched. This is definitely not something you will find on U.S. or Mexican made Strats. The next thing is the binding that appears on the top. It's a white binding that is somewhat wider than you usually find on guitars today. These two major differences actually give the standard Strat design a very attractive appearance.
One limited series of these guitars was made without the pick guard, although it was discontinued rather quickly. What you will usually find are pick guards that match the color of the guitar's body, giving it a very uniform look.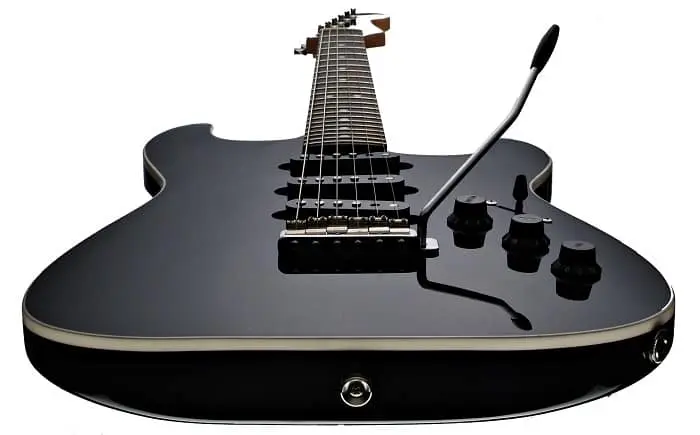 Hardware is pretty much what you can expect to see on a standard Strat. You get a tremolo bridge, vented tuners and a great set of S/S/S pickups made by Fender.
The differences we listed above may seem superficial at best, but the overall build quality and the way this thing was put together definitely impacts the performance.
Sound
In general terms, there are two type of Strats out there when it comes to the quality of sound. You have U.S. made Stratocasters which are considered to be the best of the best, and then you've got Mexican Strats. Anything aside from these two is not worth mentioning at all according to hardcore purists.
[su_youtube url="https://www.youtube.com/watch?v=Eg5rrYGQxoA"][su_youtube][/su_youtube]
This is where Aerodyne creates a bit of commotion. It's a Strat that sounds as good if not better than the U.S. made standard Strat, but comes with a price tag that is similar to a Mexican Strat.
Some guitar players are insisting that these limited models are actually the best Strats on the market. As you can imagine, this creates a lot of friction in the Fender camp. The truth is somewhere in the middle. Fender Stratocaster Aerodyne performs way better than a Mexican Strat, that is for sure. However, whether or not it can match more elite Strats is debatable.

What we like
The unusual body is definitely a breath of fresh air when it comes to Stratocasters. This Japanese beast is a real contender on all fields, and should be on your shortlist if you ever run into one.

What we don't like
Unfortunately there is always a catch. Fender Stratocaster Aerodyne is only available in Japan at the moment, so acquiring one would require you to order it from there.
>> Check Out Current Price & Customer Reviews On Amazon <<
On the whole
Fender Stratocaster Aerodyne is by far one of the most unique and awesome Strats you can get at the moment. It brings a bang for the buck ratio that makes it a steal.
Hopefully this short Fender Stratocaster Aerodyne review introduced you to an obscure guitar that definitely deserves more attention. If you ever find one, we strongly suggest you don't pass on the offer to get it. It's just that good.