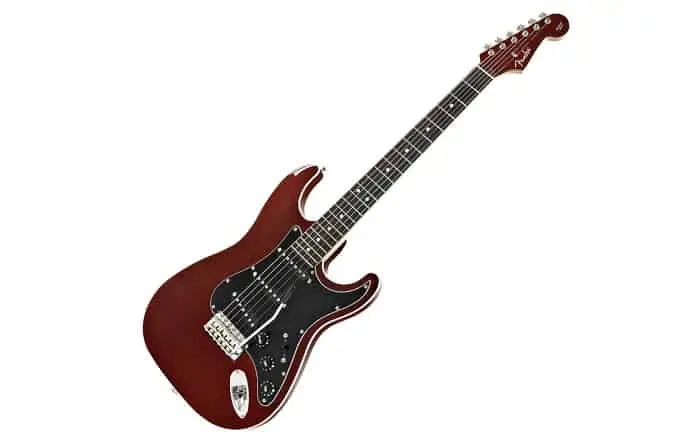 When most people think about Fender strats, they think of U.S. or Mexican made guitars. Not many people know that Stratocasters are also built in Japan. These unique models were available in the U.S. market for a period of time, but are now sold exclusively in Japan's domestic market.
>> Check Amazon Price and review <<
Similar Products
Last update on 2023-05-06 / Affiliate links / Images from Amazon Product Advertising API
Some consider these Japanese or aerodyne strats to be better than even American made ones. As you would probably expect, this has caused a lot of debate among guitar aficionados. Today we are going to take a look at the Fender Aerodyne Stratocaster and see how they differ from their more traditional American and Mexican made counterparts.
What Makes Them Different?
The aerodyne strat looks similar to the American and Mexican models, and definitely still holds that classic fender style. The main differences are usually cosmetic. Depending on the model, Japanese strats usually use a different body wood and different pickups, though in general the overall quality is comparable to the American made versions. You also have access to the same general strat guitar features with both the Japanese and American made instruments, again depending on the model you select. It really all comes down to preference, some prefer the look of the aerodyne strat, while others prefer the more traditional look of the American model.

Features
The first thing that stands out about the Fender Stratocaster Aerodyne is its body. The overall shape is that of a standard Stratocaster, however the face is arched, giving the guitar a nice contoured look. This is definitely not something you will find on U.S. or Mexican made Strats. Also, the body is surrounded by a cream colored binding. On some models the fingerboard radius of the aerodyne is slightly more curved (7.25″) than typical strat models (9.5″). These differences give the aerodyne strat guitar design a more sleek appearance.
The aerodyne body is typically made of basswood, while standard strats use alder. Basswood is noticeably lighter, and from a tonal perspective causes the guitar to have a bit more midrange and a bit less high end. The fingerboard has 22 frets, which is the same as the American made Stratocaster. The Mexican made version has only 21 frets. The aerodyne features a maple neck and rosewood fingerboard, similar to the American and Mexican strats.
Hardware is pretty much what you would expect to see on a standard Strat. You get a tremolo bridge, vented tuners and a great set of S/S/S pickups made by Fender. One limited series of these guitars was made without the pick guard, although it was discontinued rather quickly. What you will usually find are pick guards that match the color of the guitar's body, giving it a very uniform look.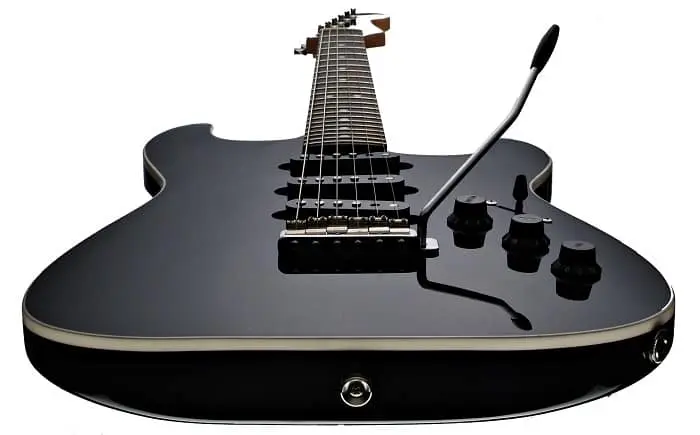 Sound
There are two main types of Strats out there when it comes to sound quality. You have U.S. made Stratocasters, which are considered to be the best of the best, and then you've got Mexican Strats.
[su_youtube url="https://www.youtube.com/watch?v=Eg5rrYGQxoA"][su_youtube][/su_youtube]
The aerodyne strat is much closer to the U.S made strat in terms of sound and overall build quality. Some even argue that it sounds better, however this is usually a personal preference and not really a generally accepted fact. As stated before, the aerodyne typically has more midrange and less high end due to the use of basswood instead of alder.

What we like
The unusual body is definitely a breath of fresh air when it comes to Stratocasters. This Japanese beast looks great and is a real contender on all fields, and should be on your shortlist if you ever run into one.

What we don't like
Unfortunately there is always a catch. Fender Stratocaster Aerodyne is only available in Japan at the moment, so acquiring one would require you to order it from there. You could probably also find a used model somewhere in the U.S. We've included an amazon link below, however they are usually out of stock.
>> Check Out Current Price & Customer Reviews On Amazon <<
Final Thoughts
Fender Stratocaster Aerodyne is by far one of the most unique and awesome Strats you can get at the moment. It brings a bang for the buck ratio that makes it a steal.
Hopefully this short Fender Stratocaster Aerodyne review introduced you to an obscure guitar that definitely deserves more attention. If you ever find one, we strongly suggest you don't pass on the offer to get it. It's just that good.