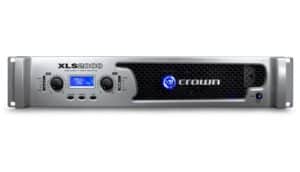 Having a power amplifier has become a necessity for anyone who plans on doing larger venues.
Depending on what kind of speaker setup you are running, you will have to use more or less powerful amps. No matter what, raw power is still the main qualifier when you are trying to determine whether an amp is going to work for you or not.
Crown is a company which has made it their mission to deliver all the power you could need in an efficient and reliable fashion. They have been in business for a while now, establishing a very good reputation with professionals and enthusiasts alike.
>> Check Crown XLS 2000 on Amazon <<
One of their more popular series of amps is the XLS. These came in a variety of power bands, starting from the XLS 100 that delivered 550 Watts at 2 Ohm, to XLS 2500 which is capable of giving you 1200 Watts of juice at the same setting.
The one that we are going to take a look at today is the Crown XLS 2000. This version is considered as the sweet spot of the whole series. Let's start from the basics and see just how good this amp really is.
Overview
Amps such as Crown XLS 2000 are reserved for more serious sound setups. This is the type of stuff you load in racks and hide in the background. What makes a good amp aside from its power? Well, there are several factors, all of which are secondary to raw output.
When you have to work with this type of equipment on a daily basis, you will want something that is user friendly and built solid. Complicated systems increase the chance of making a mistake, or overlooking something during setup. When the control interface is clean and simple, this risk is severely reduced. Crown XLS 2000 gives you that type of experience.

  Features
The core of Crown XLS 2000 is a Class D amp that is pretty efficient for its size. The whole thing is cooled by a set of heat sinks and fans which make sure that everything is under control.
Crown definitely kicked the standard forced air cooling to another level, but it's worth mentioning that the power supply on this thing is adds to that performance as well. That is a good thing considering this amp pushes out 375 Watts RMS per channel at the 8 ohm setting. This value goes to 650 Watts when you switch to 4 ohms.
Finally, when in bridged mode, Crown XLS 2000 can give you 2100 Watts in total. That's a lot of power, especially considering how light weight this amp is.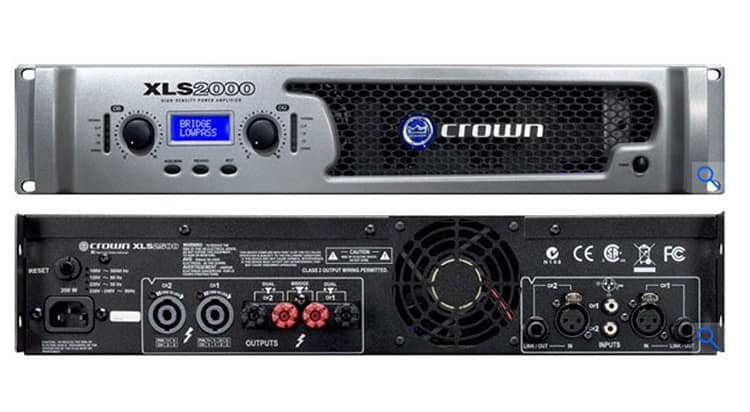 The front panel is where you find all of your controls. It's a pretty simple setup and consists of an LCD screen and a set of knobs. These control your levels and are accompanied by a number of LEDs that indicate power, clipping and signal levels.
Crown XLS 2000 comes with a crossover system that gives you more control over the signal. The frequency range goes from 50 to 3,300 Hz and there are four crossover modes. Interestingly enough, these include a low pass and high pass filter. Not that these features are critical, but having them is definitely a valuable addition to the already great package. There are also Peakx limiters which keep the output at the maximum while making sure that your speakers don't get a overdose on power.
Back panel is where your balanced XLR inputs are. These are followed by a set of TRS and RCA inputs. This variety of inputs adds another layer of versatility. Speaking of which, if you want to chain more amps together, you can do that easily by utilizing the TRS connectors.

  Performance
Crown XLS 2000 is a very light weight amp compared to some other models on the market. The fact that it comes packed with so many useful features is impressive. You can put this thing to use in a number of different scenarios.
It has enough power to be multi functional like that. Having RCA inputs means that you can use this amp at home, although it lacks sensitivity for this type of application.
If you have something more serious in mind, you will find that Crown XLS 2000 is a great amp to work with. It's simple to set up, and it fits just about any rack you might have. The controls and user interface are straight forward.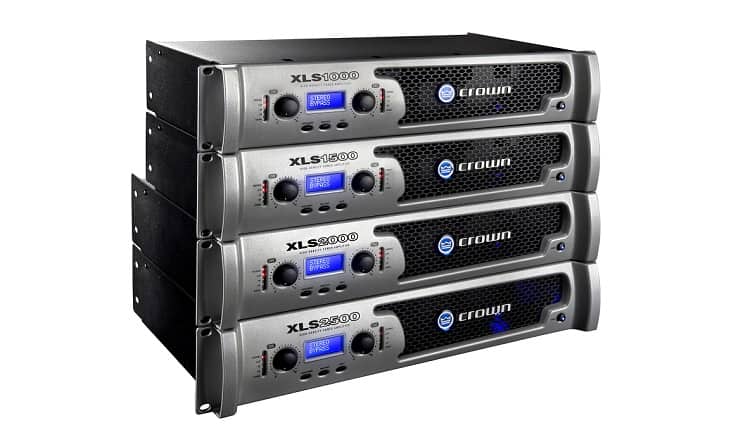 Once you set everything up, you can pretty much forget about it. All of the protective features are great if you are working with more sensitive gear. Linking more than one of these amps together is fairly easy.
There is a breaker circuit which prevents overload, so you can hook up a decent amount of amps without worrying about anything going south. Same goes for thermal protection. Considering the price, Crown XLS 2000 offers a lot.

  What we like
Layers up layers of versatility combined with a great power output is what essentially makes this amp one of the favorites no matter what kind of use you have in mind for it.
It's a quality piece of equipment that can get the job done, and is easy to use. Integrated rack mount ears ensure compatibility with just about any rack, so you can easily use it on a more professional setup.
Crown made sure that everything can keep up with that kind of application, so there is no need to worry about it failing on you in the middle of a project.

  What we don't like
There isn't much we can criticize about the Crown XLS 2000. It offers more than most of the competition does, and on top of that, it delivers great performance.
The only thing that could have been better is the sensitivity of the amp. Since Crown already included the RCA connectors, building a more sensitive amp would benefit those who want to use this amp at home.
In closing
Overall, Crown XLS 2000 is a very good amp that brings the kind of versatility you rarely find these days. Crown really paid attention to every aspect of modern amp use, and delivered a solution that appeals to all types of users who could need this kind of power.
However, the performance itself is just a part of overall list of qualities XLS 2000 offers. The way it works in terms of dealing with heat is impressive. Crown pushed the standard heat sink/forced air cooling to a level where it works flawlessly. Not having to worry about the amp overheating is definitely a plus, especially if you are using it in situations where a failure is simply unacceptable.
>> Check Crown XLS 2000 on Amazon <<
With all that said, one of the best things about Crown XLS 2000 is the price. This thing can be had for a more than reasonable amount of money. Considering it is leaning toward a professional amp in many ways, being able to get it at an affordable price is definitely a huge plus.
These days every piece of audio equipment is made with a very niche application in mind. Having an amp that is very multi functional is more valuable these days than ever. If you are looking to get some serious power on a budget, Crown XLS 2000 is an amp that you should definitely consider.