Ever since effects pedals first appeared, it was obvious to anyone who could connect the dots that we would soon see a boom in this technology. That happened long time ago, and the so called prophecy has come true.
Guitar effects pedals are not only more advanced, but are also the backbone of modern guitar tone. Just with an average pedalboard at your feet, you can add several dimensions of sound to your tone with a press of a switch. However, sometimes we are not looking for modern sounds or effects. Sometimes it's all about going back in time and experience the those sound profiles.
Catalinbread DLS or Dirty Little Secret is a very peculiar pedal made by an equally peculiar shop. These guys are not your average boutique pedal manufacturer. Catalinbread has made the process of designing and manufacturing a guitar effects pedal into a fusion of art and science.
[su_highlight background="#fcfa8a"]Catalinbread Dirty Little Secret Guitar Overdrive Pedal on Amazon[/su_highlight]
Their stompboxes are among the best in the world, without a question. Because of this reputation, they are able to push the limits and explore far reaches of sound engineering.
With Dirty Little Secret, they brought us one of the best overdrive pedals on the market.
An Overview
At this point you are probably wondering what is so special about this pedal. To fully answer this question we need to go a bit further back in time. Long before effects pedals became a thing, guitar players relied on the raw tube sound to get their fix of overdrive.
Since pretty much every amp was different in its own way, the overdrive they produced was also different. In turn, this made some amps reach incredible levels of fame. It just so happens that Marshall has had this happen to them more than several times.
We are specifically talking about their Super lead and Super Bass. You might know the latter as Marshall Plexi. Both of these amps had a very specific tone that made them so popular and wanted. With that said, emulating tubes is very hard and rarely is there a pedal that gets the job done right. Catalinbread DLS is among the few that do.
The interesting thing about this pedal is that it offers two amp emulations at the same time.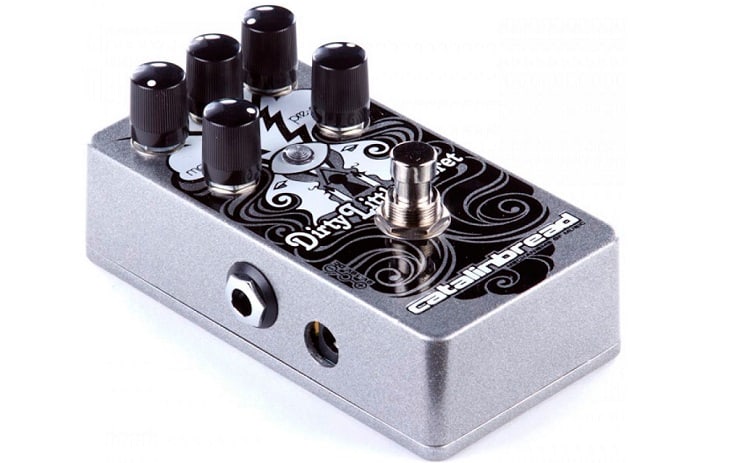 Features
Like we said before, Catalinbread is capable of designing pedals in a way that makes them sound like a million dollars, but they also know how to make them look good at the same time. Catalinbread DLS comes in a very solid metal enclosure that is durable enough to take whatever abuse you are capable of dishing out.
The top panel where all the controls are, is accentuated with a pretty attractive graphic that goes in line with Catalinbread's previous and present designs. It's not a flashy pedal, but there is something in the way it looks that makes it very attractive.
In terms of controls you have five knobs at your disposal to shape the tone. First in line is the three-band EQ. It's worth noting that EQ on this pedal is not really your standard design. Catalinbread DLS comes with dual circuitry that is necessary to emulate those two Marshall legendary amps we just talked about.
The EQ was also designed to impact both of these circuits, so it's a bit more complex than what we are used to in general. Treble knob takes on the control of the upper frequency band.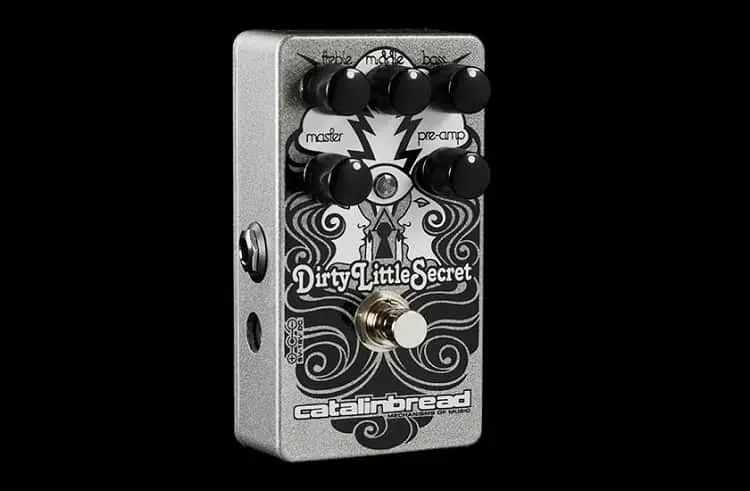 However, it also has the ability to completely reduce the impact of mids on your signal. Middle knob has the ability to boost the signal in a significant way. This pedal is generally mid heavy, so this knob is important to say the least.
Low knob does what it usually does, but its effect on the sound is different depending on which amp emulation you chose to use. Pre-amp knob is your gain knob and it also responds differently depending on which mode you are in. Lastly, there is a master level knob which is pretty self explanatory. In order to select the mode you want, you need to use an internal slide switch.

Performance
The performance this pedal offers can only be described as authentic. In other words, it really feels like you are standing in front of a Marshall stack. Circuitry design that was developed by Catalinbread for this particular model is impressive to say the least.
They went above and beyond to bring us the level of emulation that could be compared to true tubes. Not any tubes, but Marshall Plexi tubes. That is an achievement of its own.
The fact that this is not a two channel pedal, but a single channel unit with two voices is important. Usually when you have two channels, the difference between those two will be there but you will still have some common elements that are easily noticeable. With Catalinbread DLS, things are different. Not only can you choose which amp you want emulated, but the controls on the pedal will also react differently.
Super Lead mode is the default mode of the pedal. This is where you find your gain rich overdrive that has that unique Marshall flavor. Once you change it to Super Bass, you are greeted by a recognizable Plexi sound that is a bit more tamed, but every bit as powerful.
The amount of control you have over the sound is incredible. Just by using the three band EQ provided on the top panel, you can get a wide range of sounds that only a vintage tube amp can offer. However, that is not all.
There is a presence control which is accessed by removing the back panel of the pedal. You will need a some tools to get this done. However, this feature allows you to fine tune the pedal according to your rig. On a similar note, changing the mode also requires you to remove the back panel in order to access the switch.

What we like
Impressive sound combined with well designed circuitry is what this pedal is all about. The amount of control you have is rarely seen elsewhere on the market, and that really puts the Catalinbread DLS ahead of any competition.

What we don't like
The only thing we kinda find annoying is the fact that you have to remove the back panel in order to switch the mode of the pedal. While it adds to the flash factor to do things this way, it's not really a practical solution especially if you want to change things up on the go.
Conclusion
Emulating a tube amp, especially something like these two vintage Marshall tube amps is hard. However, Catalinbread got it don't to the finest details. Not only do you get that signature sound, but the controls also behave like they do on Marshall tube amps.
[su_highlight background="#fcfa8a"]Catalinbread Dirty Little Secret Guitar Overdrive Pedal on Amazon[/su_highlight]
For a boutique pedal, Catalinbread DLS really pushed the limits. It is by far one of the best Marshall inspired overdrive pedals, if not the best one you can get at the moment. If you are a fan of Marshall signature tube sound, you will absolutely love this thing. If you ever come across one, you should definitely pick it up. It's well worth the price.