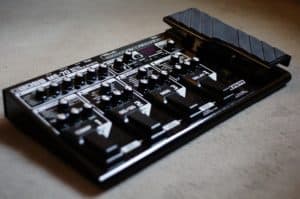 Even after all this time, effects processors are still regarded as one of the most efficient means effects processorsof having access to guitar effects. Boss is quite an authority in this regard.
Their guitar effects pedals are dominant on the market, but their effects processors aren't too far behind.
If you look at their product line, you will notice two distinct categories of effects processors. On one hand you have their GT line, which is considered to be the creme de la creme of effects processors at the moment.
>> Check out Prices & Reviews on Amazon <<
Their other branch comes in form of ME effects processors that are aimed at those who are on a more strict budget. The question is, are these effects processors really worth the money?
Today we are going to take a look at ME70, and see just what kind of performance you can expect from this unit. If you were on the fence about this model, you might just be surprised.
An Overview
A quick glance at the Boss ME70 reveals a very busy layout. There's a lot going on in what is relatively limited space. This processor has a more basic design compared to the GT series, or the higher end units made by the competition.
[su_youtube url="https://www.youtube.com/watch?v=ZTc0oIPvSxQ"]
The build quality of the case is pretty decent, and inspires some confidence in the device. Let's talk about the features of ME70.

  Features
In terms of features, Boss ME70 sports a pretty basic design. You have four stomp switches, the Boss elongated kind, and an expression pedal to the far right. Each switch is controlling a channel of its own.
The first one from the left is a compressor/FX channel, followed by distortion/overdrive, modulation and delay channels. Above each of these is a small cluster of knobs that allow you to choose different presets, and shape the channel's parameters to your liking.
All in all, it's a no nonsense approach to an effects processor control panel design.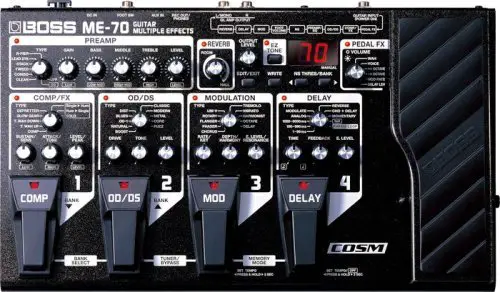 Boss ME70 features some 36 presets and 7 effects. The emulated amps and cabs are pretty decent considering the price range of this model. You can choose anything from a saturated metal amp, to a more bluesy overdrive.
Modulation channel allows you to choose a number of different effects. Things like tremolo, vibrato, phaser, chorus and similar are all there.
Above the channel cluster, you will find a preamp section. This feature allows you to plug the ME70 directly into a mixer or a sound card. There are 6 types of amps to choose from, and the results are pretty good.
You can also use the preamp section's EQ when plugging the processor into an amp. This gives you one more layer of sound shaping to work with.
Compared to some other models on the market, EM70 may seem a bit under-quipped. It features a stricter choice of amps and effects than the competition. However, Boss compensated this by including things like Phrase looper that allows you to loop a 38 second section. For a budget processor, this a pretty big deal.

  Performance
Overall, Boss EM70 performs as expected. It is a budget effects processor, and the sound of each cab/amp reflects that. However, the quality of sound and the amount of maneuvering space you have when it comes to shaping your tone is impressive all things considered. Everything works, and there is no overwhelming complexity that can hinder your experience with this processor.


  What we like
Boss really knows what the market wants, and delivers products accordingly. The Boss ME70 is an almost perfectly balanced effects processor that isn't trying to sway its users by an overwhelming number of presets. Instead it brings great new features to the table.

  What we don't like
If we were to compare this processor to a GT series one, we would find a bunch of flaws. However, that would be a wrong thing to do. The only thing we can complain is the tightly packed layout. It can be a pain to work sometimes, especially in a hurry.
All things considered..
Boss ME70 has a lot to offer to the budget crowd. It brings everything you would want from a device such as this. Sure, it's not as flexible in terms of presets and effects like some of its direct competition.
>> Check out Prices & Reviews on Amazon <<
But it compensates this with a bunch of great features you rarely see in models within this price range.