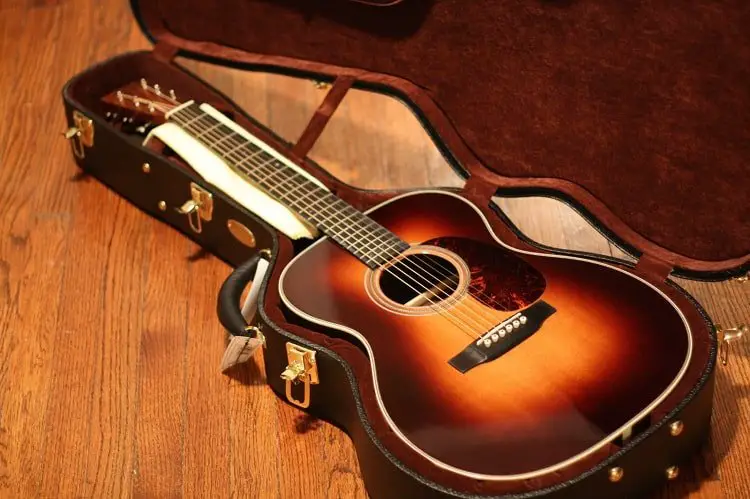 Acoustic guitars are very old instruments that have been evolving pretty much ever since their inception.
Modern acoustic guitars are different from the original deigns in many ways, however the basic shape of the soundbox has remained more or less the same until this very day. With that said, the most popular type of acoustic guitar today was invented quite recently.
We are of course talking about the famous Dreadnought design that was introduced by Martin guitars in early 1900s. Not only did this transform Martin into one of the leading brands of acoustic guitars, but it also significantly change the way we see this instrument as a whole.
Martin has stayed within the elite brands until this very day. They make some of the best acoustic guitars you can find on the market, which are also used by a variety of globally popular artists.
[su_highlight background="#fcfa8a"]Martin 000-28 Eric Clapton Signature Model[/su_highlight]
A good example of one such guitar is the Martin 000-28EC. This is the acoustic guitar of choice for none other than Eric Clapton. As a matter of fact, it is his own signature model. On a grand scale of things, this is by far one of the most popular Martin models in their offer.
An Overview
It really takes a lot to build a good acoustic guitar. It's not just about the type of materials you choose. A lot of different factors need to come together in order to form a top tier acoustic guitar.
Martin's formula for success is to have a number of experienced and very skilled luthiers within their ranks. This group of select masters of their trade will not only hand craft guitars better than just about anyone else can, but they are also constantly figuring out new ways to push the edge of sound quality.
When such a company decided to make a tribute guitar for a legend of Clapton's caliber, you know they have their best people on the job. And indeed, 000-28EC is one mighty fine acoustic guitar

Features
Almost all guitars in this category will be made of exclusive tonewood that is neither cheap nor easy to source. In this case we have excellent solid Sitka spruce top that is combined with even more impressive East Indian rosewood back and sides. The level of craftsmanship visible on this guitar is incredible to say the least.
You can figure out what body shape they went with for this model from its name. 000 or Orchestra model is one of the standard acoustic guitar body shapes that has been used for centuries now. The neck is made of genuine mahogany and is connected to the body using a dovetail neck joint. It features a nice modified V profile with an Ebony fretboard on top.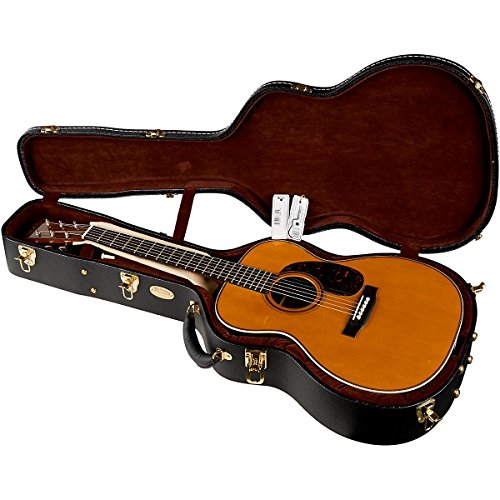 In terms of hardware you are looking at a genuine bone nut, a belly drop-in saddle Ebony bridge with two and a quarter inch string spacing. The saddle is a compensated bone designs and measures some 16 inches in length. Overall the fit and finish is exactly what you would expect from one of Martin's top models in production at the moment.

Performance
There is a good reason why Clapton chose this very guitar for his famous MTV unplugged performance. The combination of rosewood back and sides with a nice solid Sitka spruce top offers a very interesting balance of tone color and volume.
Rosewood is generally a very hard wood, so you can expect a sharper response. However considering that Sitka spruce top and the fact that this is a 000 shaped acoustic, you get a great amount of low end response, mid range saturation and just impressive treble clarity.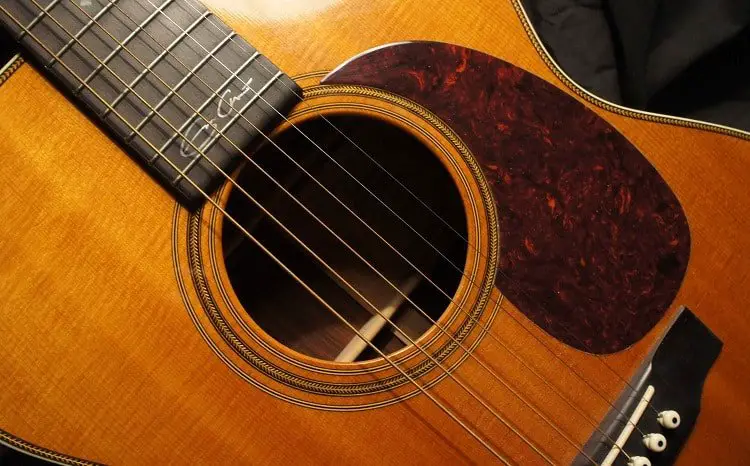 The sound is very warm, punchy and overall easy to work with. This guitar responds well to both strumming and finger style. One of the best thing about its sound is the range.
You can pull of a variety of music genres with this thing. With that said, 000-28EC is very playable. That modified V neck profile definitely helps in this regard, while the Ebony fretboard takes care of playing comfort. Once you start playing some chords, you will see just how loud this guitar is.

What we like
When you enter the high end Martin territory, you are overwhelmed by an impressive amount of style and performance these guitars offer. That goes for 000-28EC as well. This thing is a dream to play and own.
The sound is heavenly with a touch of what many people call 'Martin sound' and more. Not only is this guitar capable of giving you a high level of performance, but it also reacts well to studio recording sessions.

What we don't like
Here's the bottom line. First and foremost, it's a high end Martin and this company makes it pretty hard to find a single flaw. Secondly, if it was good for Eric Clapton, chances are it will be good for you as well. 000-28EC brings everything you could possibly need from a standard Orchestra style acoustic, and then some.
Conclusion
At the end of the day, Martin 000-28EC is one of the more expensive guitars you can get, but also one of the best on the market. The price is a real deal breaker for anyone who is on a budget.
High end Martin guitars simply require a bit deeper pockets if you want a taste of their quality designs. On the other hand, it is absolutely worth saving up for 000-28EC. It's just a very impressive acoustic guitar that might look like your run of the mill acoustic from a far.
[su_highlight background="#fcfa8a"]Martin 000-28 Eric Clapton Signature Model[/su_highlight]
However, as soon as you start handling it, you will know just how different it actually is. So, who is this guitar intended for? The core of their user base are going to be professional or semi pro musicians can't afford to spend months comparing various guitars. This is the go-to option for anyone who wants all of the things we mentioned so far, and isn't afraid of omitting to such an expensive instrument.