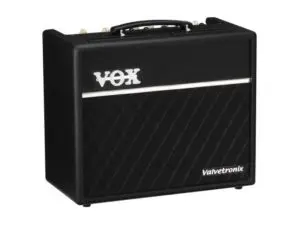 When a company has been around for as long as Vox has, they develop a sort of reputation that makes them a go to choice for most.
Most of us know just what kind of shock wave Vox created with their tube amps, especially the revamped models we've had the opportunity to see recently.
This has partially made them a trusted choice for tube amps of any kind. Because of that kind of reputation, their solid state modeling amps get less attention than they deserve.
>> VOX Valvetronix VT20X – Check it on Amazon <<
Vox is big enough and popular enough to develop inexpensive amps for those on a tight budget. This is exactly what the Vox VT20 is all about. It's a compact hybrid amp which offers a good range of tonal qualities along with very versatile features. We're going to review this little box today, and see exactly what it has to offer.
What it has to offer:
Ever since solid state amps became a thing, manufacturers have rushed to offer more and more great features. This is especially true for the affordable range of amplifiers. What Vox did with VT20 was somewhat different.

Instead of taking the standard route, they have actually created a hybrid which gives a slightly different performance compared to what you'd find elsewhere.

  Features
What we have here is a compact practice amp that delivers some 30 Watts RMS in total. Vox VT20 utilizes a single 12AX7 tube in the power stage, combined with the a solid state circuitry which takes it the rest of the way.
Sound comes from a single 8-inch speaker that is made in-house by Vox. The control panel is packed with all kinds of knobs and buttons. Aside from your standard 3-band EQ, gain and volume, there is a whole variety of features to choose from.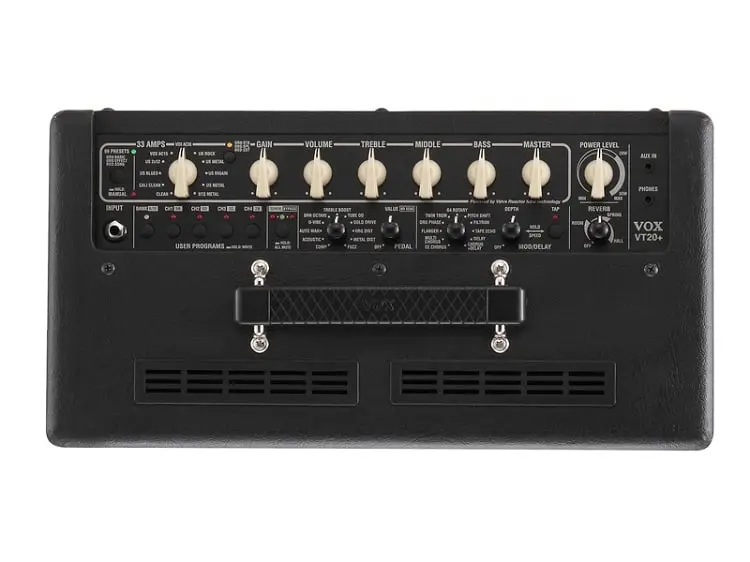 Being a hybrid amp, Vox has managed to cram 33 different amp presets, 11 pedal presets, and some 14 effects. That is a lot of tone shaping capability in one tiny amp. There are four channels available, with two banks which hold up to 99 user defined presets. You can save a whole range of your own tone settings, and recall them with ease.
Being such a small amp with a decent amount of power, Vox VT20 is definitely a great choice for a practice setup. You can easily use it at home as well as studio. It has enough juice to cut through the mix and give you a voice during a full band practice.

  Performance
For a rather affordable amp, Vox VT20 has a decent sound to it. Sure, the emulated presets won't come anywhere near the real thing, but even so they are more than usable. Some of the presets actually sound great compared to what other manufactures offer in their amps within the same category.
[su_youtube url="https://www.youtube.com/watch?v=9eVXzqRAbOg" width="440″ height="260″][/su_youtube]
One that needs to be mentioned is the AC30 preset. As you can probably imagine, it's done very well and actually resembles the real thing quite a bit. The range of effects is rich. All of the reverbs, delays and modulation effects sound organic to a point.
Are they going to be better than a dedicated pedal effect?
Definitely not, but they will get the job done. When it comes to inexpensive amps designed for those on a tight budget, Vox VT20 ranks pretty high on the list.

  What we like
Great performance delivered in a compact, yet practical design. This amp is a tiny box that packs a mean punch, and that is something we will always compliment. If you're looking for a great practice amp from a company with a great reputation, you should seriously consider this Vox.

  What we don't like
One thing that becomes instantly apparent is that VT20 is not an easy amp to use straight out of the box. In order to actually utilize all the effects and features, you will need to figure out the very unusual process by which these are activated.
All things considered
Hopefully this Vox VT20 review introduced you to a great little amp you weren't familiar with before. It's definitely a model you should consider if you need a cheap practice amp that actually has a decent sound.
>> VOX Valvetronix VT20X – Check it on Amazon <<
Whether or not its a great choice for more serious application is something you have to answer for yourself. We'll go as far to say its a great home amp for beginners and intermediate players.