With the rise of the modern technology, modeling amps have found a prominent spot and a significant share on the market of musical instruments, as a mixture of quality sound, user friendliness, and an affordable price tag.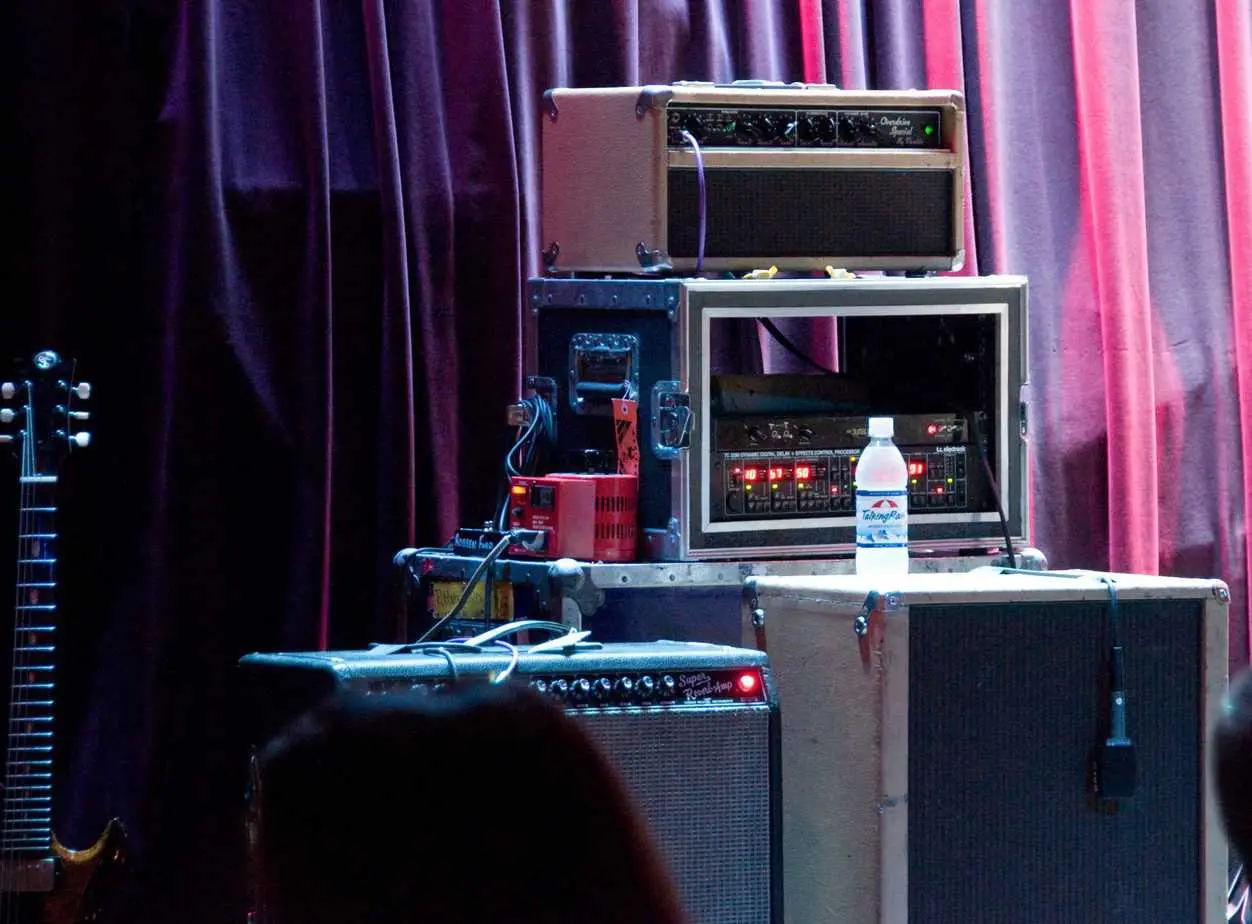 These devices truly bring out the best in digital audio technology, hence we have decided to sift through the items offered on today's market in a bold attempt to bring you the best modeling amp you can buy. We took multiple factors into consideration, including sound quality, value for money, portability, user friendliness, and of course – the price tag.
The quest was indeed a fruitful one, as we have summed up our thoughts and singled out a total of five top quality amps you should consider buying. They patiently await below, do check them out.
Name the best modeling amp
We will get the party started with the company that played a crucial rose in the rise of modeling amps and digital technology in music in general – the one and only Line 6. The specific model we have opted for goes by the name of Line 6 Spider IV. It's a 15 watt 1×8 modeling guitar amp that brings out the best characteristics of the modeling approach summed up in an affordable package.

Features
The device features a total power of 15 watts delivered through a single 8 inch custom speaker. Also included in the mix is a 3/4 closed-back cabinet that gives the product a snappy and quite tight response. The item features a set of four dialed in amp models, allowing you to craft and save four full amplifier settings with one device, using various amp model, effect, EQ, and gain.
At the same time, you can recall each of them with the simple push of a button. Further on up the road, the gizmo utilizes a pack of six Smart FX effects based on the company's renowned stompbox and studio effects, such as the tangy chorus and flanger, the swirly phaser, the good ole expressive Tremolo, tape and sweep echoes, the crunchy distortion, blissful chorus, reverb, you name it.
Additionally, you can utilize two effects at the same time. There is also a standard pack of Bass, Middle, Treble, Drive, Channel volume, and Master volume controls. The FBV foot controllers allow you to add everything from wah-wah and volume control to tap tempo. The chromatic tuner display and simple channel switching make it easy to work with this amp, while some of the other standard features include a 1/4 inch input, a 1/4 inch headphone and direct output, an 1/8 inch CD or MP3 input, and a FBV foot switch jack.

Sound
Versatile, versatile, and very versatile. Whether your goal is to deliver a classical guitar vibe, a load of crunchy distortion, a bluesy fuzz, a rock 'n' roll rattle, or smooth jazz groove, this fella has your back covered. Additionally, each of the listed effects is very authentic to the original stopmbox effect it was based on, and the same goes for the offered amp models.
In case you need additional sonic strength, the company also offers a 30 watt model with essentially the same features, but more power.
Up next is Peavey, another renowned name that decided to delve into the modeling world with successful results. Once again, we are talking about a plethora of sonic options and oh so many ways to tweak the final audio output. The amp is very sturdy and durable, which happens to be a staple mark of many Peavey products. But there are many more factors to discuss, so let us proceed to the features segment.

Features
The amp utilizes 20 watts of power delivered through a single specially voiced modelling 8 inch speaker. There are many features to go around with, including top quality acoustic guitar simulation, and even bass guitar simulation, which opens up a whole new level of groove.
Also included in the mix is an acoustically ported semi-closed back, a rich set of 16 presets, the company's patented Transtube technology, a pack of 25 amp accessible effects, 36 built in amplifier models, six bass amplifier models, and six acoustic amplifier models.
The device sports a built-in looper that can be activated with an optional Sanpera or via WYSIWYG (what you see is what you get) controls. Further on up the road, there is also a set of amp accessible real time dual parameter controls, a tap tempo feature, a bi-directional USB – Midi – Data – Audio record output, an amp accessible global reverb and delay effects, a headphone out, and an enhanced chromatic tuner. Also worth mentioning is the fact that this fella allows you to utilize up to four different effects at the same time.

Sound
The sound is first and foremost amazingly strong. The sign says 20 watts, but this guy seems at least twice stronger. Apart from that, the included effect seem to work the best for the rock driven sound. Additionally, the dude works for blues just fine as well. Therefore, if fuzz, distortion, and other rock, blues, hard rock, and heavy metal related sounds are your cup of tee, do consider this Peavey.
Vox is another company with a strong reputation and a rich legacy that has delved head on into the modeling realm. The specific item we opted for goes by the name of Vox Mini 3 G2, it is a mini amp and it packs a heck of a punch. If you were looking for the best small, super portable modeling amp on today's market, this is the one you want.

Features
Delivering 3 watts of power might seem like a puny thing, but Vox proves that even with that wattage, you can deliver a strong punch if you utilize the components in an efficient manner. The device packs a rich set of 11 distinctive on board amplifier models distilled through the company's renowned Valvetronix technology.
The amp offers a wide array of tones ranging from sparkly clean notes all the way up to high gain distortion crunch to crank up to 11. It can be utilizes with a range of various instruments such as electric guitars, acoustic electric guitars, as well as keyboards. Also included in the mix is the New Bassilator circuit, a nifty piece of technology that significantly enriches rich you sonic output's low end, especially when used with high gain models.
This little Vox also packs a series of top notch effects you can use, including chorus, tremolo, flanger, an enhanced compressor, reverb, delay, and more. A dual power feature is also present so you can use the included AC adaptor or jam up to 10 hours of battery powered musical portability.

Sound
Much like every Vox, the sound of the Mini 3 G2 is a tad more on the blues rock realm. If classic rock, blues, blues rock, or jazz rock are your thing, you will absolutely adore the little man. However, we are talking modeling technology after all, meaning that even if lighter pop or crunchy heavy metal are your thing, you will still be able to tweak the amp and adjust its audio output according to your needs with great ease.
You can't go wrong with a trusty Fender, or so they say. Representing the renowned manufacturer, up next is the Fender Mustang model, the most powerful amp on the list and your top pick if you are looking for an immense amount of power in a convenient and compact package.

Features
Available in 100 watt and 150 watt editions, the amp allows you to choose from a vast array of tones and sounds by utilizing a total of 17 different amp models you can pretty much adjust to any musical genre you can think of. The mix includes the company's signature Fuse software that allows you to make easy sound adjustments on the go or spend many hours tweaking and improving your sound at home or in the studio.
Some of the included guitar effects include delay, reverb, tremolo, phaser, distortion, chorus, and many more. The amp also features an AUX input you can use for plugging in your Mp3 player and jamming away to your favorite tunes. Additionally, you can use the 1/8 inch headphone output for silent jam sessions, and avoid neighbor complains if you feel like jamming in the wee hours.
Also included in the mix is the Ableton Live Lite 8 Fender Edition recording software compatible with PC and Mac devices that allows you to record your material with maximum convenience. You can also use two XLR right and left line level outputs on the back panel to connect with your outboard recording equipment. Last, but definitely not least, is the company's five year warranty that secures you from any unwanted malfunctions. These are rare, but alas they do happen from time to time.

Sound
With this much power and versatility, you can make the Mustang III sound like anything. A mellow crooner packed with rawness and emotion to bring you to tears? Sure, you got it. A packed to the gills metal monster to blow the crowd away? Absolutely, it's there, just a simple matter of making a few proper tweaks.
In the budget friendly realm, we were pleasantly surprised by the Behringer GM 108, a small beast coming from Germany. Surprisingly versatile, and surprisingly affordable, this model offers everything a young rock guitarist needs, and even a little extra pinch of magic. For the listed price, if is quite difficult to get the same amount of power and sonic quality. More details in the paragraphs below.

Features
Offering what seems like much more than the listed 15 watts of power, the GM 108 utilizes a wide range drive control that guarantees and extremely fat and punchy sound with any type of guitar pickup. The device features a dedicated three band EQ, along with a standard master level control knob.
There is a CD input that allows you to jam along with your favorite tunes, along with a strong headphone output with speaker simulation for efficient silent practice sessions. Additionally, you can keep your instrument in proper shape at all time by using the included auto chromatic tuner you can control via foot-switch pedal. The amp features total dimensions of 15.4 x 7.6 x 14 inches, and a fairly light weight of 13.5 pounds.
This true analog modeling guitar amp sports an original 8 inch Bugera speaker. Great sonic versatility is ensured via authentic analog modeling features for three classic guitar amps, three speaker simulation and plus three gain modes, ultimately resulting with a rich pack of 27 distinctive guitar sounds available at your disposal. For the listed budget, that is quite a bargain in our humble opinion.

Sound
The sound is very much bass driven, while still offering a strong punch from the middles section and a healthy chunk of treble brightness to round up the overall sonic output. The mentioned features allow a solid sonic versatility, especially in the rock realm.
So if you are thinking about focusing on rock music only, there should be nothing to stop you from buying this Behringer asap, you will save some money, and you will get all you need.
Conclusion
We have steadily reached the end of out little journey here, and all we can say is that each of these fine five lads is a very strong contender for the title of the best modeling amp. They all pack a heck of a punch, and perhaps more importantly – they all offer more than their respective price tags might indicate.
Now it all comes down to the matter of your personal taste, so feel free to specify your exact spending budget, as well as your needs, preferences and tastes, and bring the big final decision. Treat yourself with a top notch modeling amp and improve your musical journey as early as today. These boys just might take you to the next level – highly recommended, a major thumbs up from here!