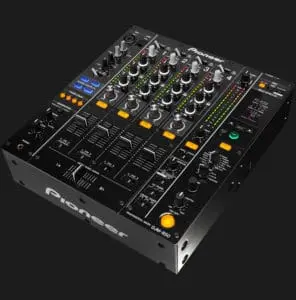 Pioneer is a long standing company when it comes to audio equipment of any kind. They were making stuff long before most of the today's giants even existed.
It's fair to say that they have proven their quality and worth numerous times by now. As the technology advanced and new things became available, Pioneer didn't fall behind.
Instead they were spearheading the development of said technologies along with their partners in the industry.
One of the results of their effort is the DJM 850 club-standard mixer we have today. It's a powerful tool for anyone who needs absolute control during their live performance. It's a formidable device that is contested only by several existing platforms on the market.
== Pioneer DJM-850-S DJ Mixer on Amazon.com ==
We wanted to see if this Pioneer DJM850 was really as good as people are saying it is. With that said,
let's take a closer look and find out.
Before we get into individual features and all that good stuff, let's address the build quality of this unit. After all, it's marketed as a live performance controller that should take everything that can possibly happen in such environments.

Is Pioneer DJM850 up to that task? You better believe it.
This thing made of heavy duty metal that has enough rigidity to endure the constant use while also looking pretty great. The unit itself is heavy and inspires confidence when you start handling it. I don't know about you, but a lot of people require this sensation when handling new equipment.

  Features
Pioneer DJM 850 is a Traktor compatible mixer. It comes with an audio interface that is mean to be used in conjuncture with Traktor, or as a standalone sound card for other types of software. When you take a look at the control layout, you will FX buttons on the left side of the panel along with controls for two microphones that share EQ controls.
On the right side you got your beat effects with a sleek display along with a knob that allows you to select between 14 different effects. There's also BPM factor controls along with BPM tap and time knob.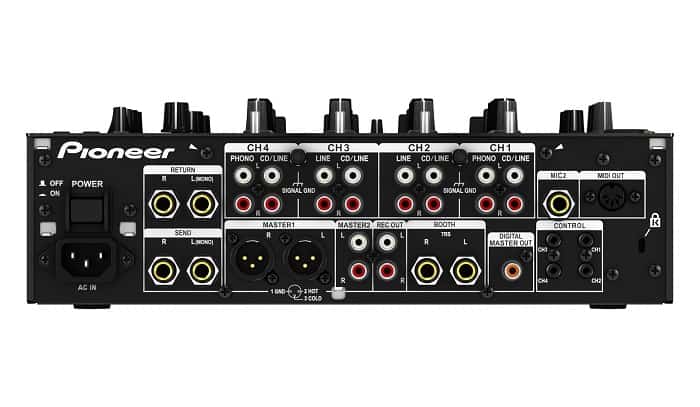 The middle section features four mixer channels with dedicated three band EQ controls, a color knob and separate faders. Each one of these channels has an LED strip that offers visual representation of channel levels. To the right of the main mixer panel is the master control section with master level knobs and all your regular controls.

  Performance
The hardware effects that come with DJM 850 really make this mixer shine. You could argue that it's these effects that make it stand out from the competition. The Sound Color FX cluster gives you Noise, Gate, Filter and Crush options.
Gate serves to filter out the low volume parts of the mix and let the louder layers break through. Noise adds a layer of white noise over the mix that is not all that subtle as we would like it to be, however it does act as a lo/hi filter.
Crush brings back that old school bitcrusher effect. It's purpose may be overestimated for modern projects, but it definitely has a character of its own.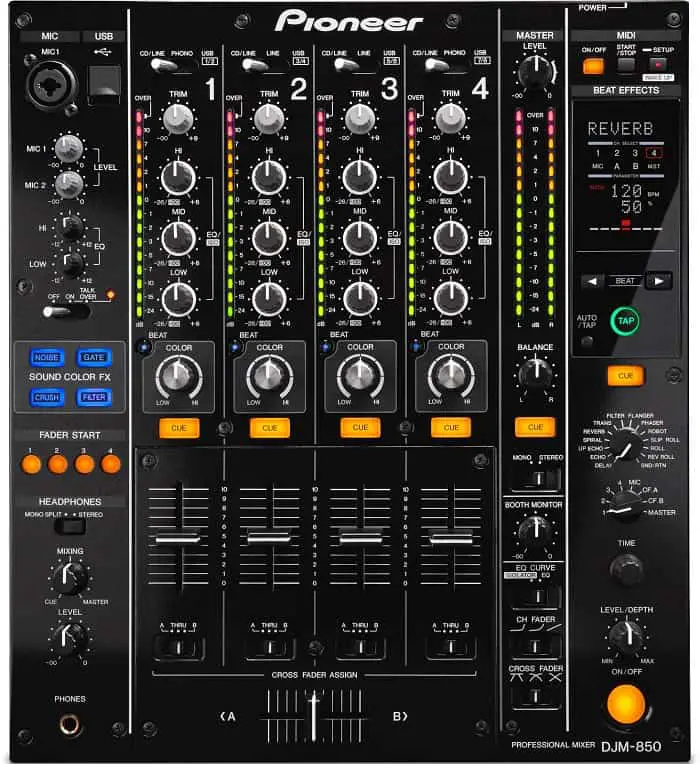 On the right side of the panel you will find the Beats effect knob that allows you select among a whole bunch of different presets. The tap button in combination with the time knob allows you to tweak the effects cycle time by yourself.
Pioneer DJM 850 works is pretty flexible in a sense that you can add an array of different turntables to it. It's a modular platform that is compatible with a bunch of additional equipment you might need. Once you connect something like turntables, you will notice that there's no conflict between these devices and the DJM850.
Everything works flawlessly and just performs as you would want it to. It's no wonder you will see this mixer in many different clubs. It is simply reliable, flexible and practical to use.

  What we like
First and foremost we have to give praise to the hardware effects features that come with this mixer. They really add a whole new dimension to the already great experience. Combine that with full Traktor compatibility and you already have a winner.
The build quality is impressive with every single element giving you an impression that Pioneer didn't cut corners. We also like to modular nature of this mixer in a sense that it won't have any issues working with an array of different turntables and other equipment.

  What we don't like
Being completely objective, Pioneer DJM850 is a jack of all trades and master of none. This is a general purpose mixer in the true sense of the word. While this isn't necessarily a flaw, it does affect your decision whether or not this device is for you. If you have very specific requirements that are niche oriented for a certain genre, you might need to look for something else.
The final verdict
When we first took interest in Pioneer DJM850 we expected a base line performance delivered by a workhorse mixer. While it definitely is a workhorse mixer, it is anything but a base line model.
== Pioneer DJM-850-S DJ Mixer on Amazon.com ==
The hardware effects take care of that along with an outstanding compatibility with other devices and software. We are generally pretty impressed by Pioneer DJM 850, and we can see a large amount of venues chose this mixer over anything else.
The question is if this is the right mixer for you. In order to find an answer you have to ask yourself how specific are your requirements? Can you afford to purchase additional equipment in order to build a decent rig, or do you need something that already comes with all those features.
That is entirely up to you. What we can tell you is that this Pioneer earned every bit of reputation it has. It's a proven platform that you can rely on for a broad range of applications and uses.