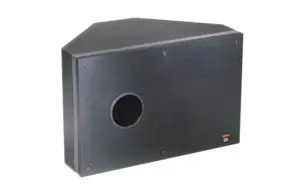 Modern audio systems have come a long way from what we had just couple of decades ago.
The main configuration hasn't really changed that much, but the technology evolved to a new level.
Your average loudspeaker system will have two or more units chained together. Each of these is going to have one HF tweeter and another transducer that comes in two types.
Either it's going to be a full range driver with the emphasis on mids and low frequencies, or it is going to be an LF unit designed to provide bass.
>> Check out JBL Control SB-2 Price on Amazon <<
In most cases, this type of setup works just fine given that you get a fine balance across the range. However, if you want a more exaggerated bass sound, you will have to reconfigure your setup. To get additional bass response most people get a dedicated subwoofer speaker.
The only problem here is that it adds bass, but doesn't really enhance the overall sound quality. There is a solution, though. Something like JBL Control SB-2.
Overview
Any audio engineer will tell you that it's always better to purchase an audio system the delivers the type of performance you need, even if that means waiting longer in order to save more money. Not everyone has that privilege.
Some users are forced to get whatever they can since they have a venue to run. For that group of users, JBL Control SB-2 is a perfect solution that simply works. On top of it all, it is inexpensive compared to some other options on the table.
So what exactly is this thing? In short, it's a unit that provides low end reinforcements in existing systems. We will talk more about how it works further down in the article.

  Features
When you first see it, you will probably be a bit confused by the appearance of JBL Control SB-2. It doesn't look like your ordinary loudspeaker. The cabinet is made of fine particle board that gives it all the acoustic properties necessary, while also providing support and protection to the electronics inside.
Speaking of which, the core component of this system is a single 10 inch dual voice coil transducer. The frequency range it's capable of supporting is very narrow band that goes from 38 Hz to 160 Hz.
Total power capacity is limited to 340 Watts with both inputs driven at the same time. Connectors come in form of 1/4 Inch TRS stereo inputs and outputs.

  Performance
The essence of what JBL Control SB-2 does to a pre-existing setup comes down to this. Let's say you are lacking bass in your system and you want to solve that issue. If you run your loudspeakers and chain them to the JBL Control SB-2, it will take over the bass frequency, and the built in high pass filter will send everything over 160 Hz to your loudspeakers.
In turn, they won't have to deal with ultra low frequencies, and will be able to give you much more defined mids and trebles. It's a great combination that adds a lot of good bass response while also improving the overall sound quality.
JBL Control SB-2 is designed to be used in venues, and isn't too practical for home use. However that is entirely up to you.

  What we like
JBL made a very simple yet practical solution to a problem many venues are currently dealing with. Modern music is very bass heavy, so adding a bit more low end to your venue's sound system is always a plus. On top of all that, this is an inexpensive device.

  What we don't like
There is really nothing we can say is wrong with JBL Control SB-2. It's a pretty unique beast, and there aren't many speakers you can compare it with.
>> Check out JBL Control SB-2 Price on Amazon <<
Conclusion
At the end of the day, JBL Control SB-2 is a very useful piece of equipment that has a niche purpose. With that said, it solves a reasonably big issue that a lot of venues are dealing with at the moment.
This speaker isn't really designed for outdoor use, but it does wonders inside small to medium spaces. If you feel your loudspeaker setup lacks bass, you should definitely check out JBL Control SB-2.