Most guitar players differentiate amps between modeling and tube models. For most, this categorization is more than enough. However, even the godly tube amps have several classes of their own.
The next level of excellence aside from having real tubes in your amp, is the type of electronics you have inside. Is it a PCB or a PTP design? PCB is your standard printed circuit board with everything made by machines up to manufacturer spec. In other words, you're looking at soldered contacts, the works.
PTP implies that an actual person went on and manually connected the circuits inside the amp. The main benefit of this type of amps is the fact that you get stronger contact points, and generally more rugged electronics.
Every contact was manufactured manually, connected before any soldering, and then soldered together. Only downside to PTP amps is their price. These things can get real expensive real fast. We've chosen several examples of a hand wired tube amp that you might want to consider, if this is something you're interested in.
Top Rated on the Market
EDITOR'S CHOICE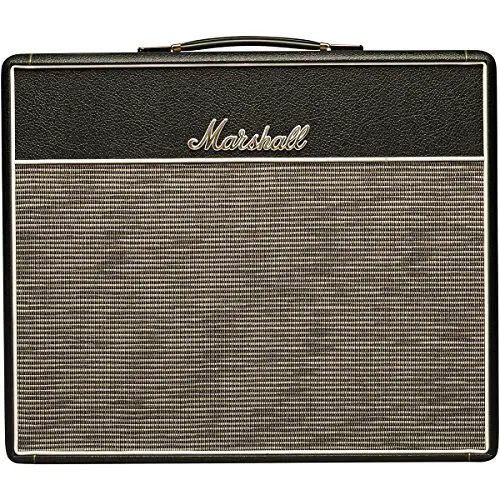 When it comes to superb construction, you can trust Marshall to give you something that will knock your socks off. This is the first of two Marshall hand wired amps that we're going to look into today. Marshall 1958X sports a very vintage design, which is to be expected since this is a revamp of their legendary 1958 model.
It's a great combo tube amp that gives all the benefits of PTP amps made by some of the best engineers in the business. If you just want an amp of this type but don't know which one to go for, this Marshall is a proven option

  Features
This amps sports two ECC83 pre amp tubes along with one ECC83 and two EL84 power amp tubes. It's a dual speaker combo setup that comes with two Celestion G10F-15 10-inch speakers that are capable of pushing out 15 Watts combined.[su_youtube url="https://www.youtube.com/watch?v=_cuClOaiVCk"]
These speakers were artificially aged in order to mimic the condition of the speakers from the original 1958 model as they would sound today. Although you can definitely hear the difference, Marshall did a fine job.
In terms of controls and features, this amp is a simple no nonsense model. You have your tone knob, two volume knobs, speed and intensity controls. Marshall 1958X comes with a vintage type footswitch as well.
  Sound
One of the best things about this Marshall is how accurately it reproduces that sweet vintage tone. It's partially the aged Celestions and partially the choice of tubes they used, but the 1958X allows you to go back through time and experience the sound that made the golden age of rock so memorable.
Since it's a low wattage amp, you can crank this puppy up to that sweat point where the tubes really start to shine, all without damaging your hearing.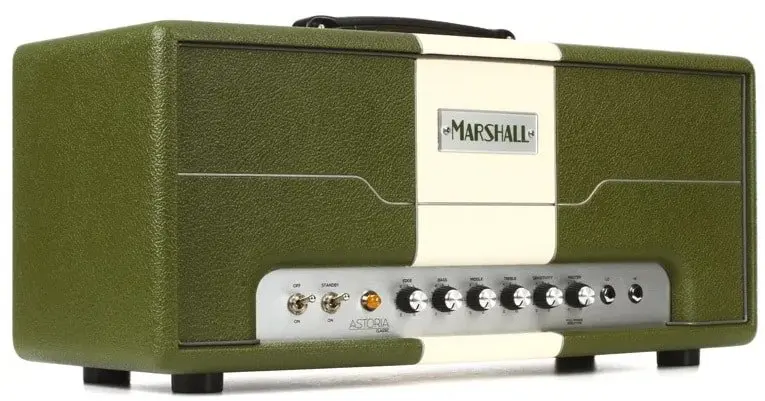 Another great hand wired amp from Marshall comes as a part of their new Astoria line of amps. If you always wanted to have a high quality boutique tube amp, this is about as good as it gets. Marshall Astoria AST1H is an amp head that features a very retro design, and comes in a oddly appropriate green color.
You just have to appreciate Marshall's design team as they come up with some of the most aesthetic contours in the industry.

  Features
Marshall Astoria AST1H features three 12AX7 pre amp tubes, and two KT66 power tubes. Combined power of these valves is set at 30 Watts. It's a pretty basic amp head with your standard controls.
You have the on/off swithch, a standby switch, edge knob, three-way EQ, sensitivity knob, and master volume. There are two input jacks, a hi and low one. This is a single channel amp that is any purist's wet dream.
  Sound
The sound of Marshall Astoria AST1H exceeds all expectations. It offers that quality vintage tube sound that is hard to reproduce without the components like you can find in this amp.
Paired with a matching cabinet, this amp will give you hours upon hours of rich and defined tone that you can shape any way you want. If hard rock is your thing, this amp will fit right in.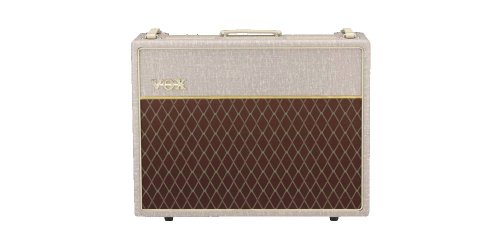 There can't be a tube amp list of any kind without mentioning Vox somewhere along the way. Vox AC30HW2 is a hand wired version of their legendary AC30 series of amps. The regular variant of this amp is probably one of the best tube amps that was ever made, but the hand wired design only improves that quality to a whole new level. It's a capable little amp that brings the thunder.

  Features
The output power of the VOX AC30HW2 is set at 30 Watts RMS. It uses three 12AX7 pre amp tubes and four EL84 power tubes to deliver this power. There are two 12-inch Celestion G12M Green Back speakers that are a well known addition to many popular Vox amps
There are two channels, normal and top boost where the latter is acts as an overdrive section. Controls are pretty standard for Vox tube amps.
  Sound
The sound you can expect from this amp is the that awesome Vox vintage sound we all love. There isn't much difference in sound quality between the hand wired AC30 and a regular one, however those who owned an AC30 will probably notice some subtleties.
It's a very responsive amp that can give you that hard rock sound like rarely any other tube amp can. It's not better nor worse, it's just unique.
Conclusion
There you have it, three incredible hand wired tube amps that just lay down the hammer pretty hard. If you're at that point in your guitar playing career where you want to move on to more refined gear, hand wired amps like these three are a great place to start.
We feel that these two Marshalls along with the Vox AC30HW2 are probably the best hand wired tube amps in terms of value for the money.