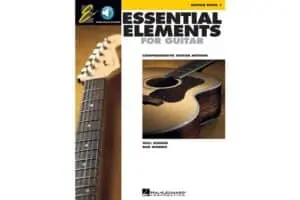 When you first start playing guitar, you are overwhelmed by the amount of information you are expected to digest. It's hard to even find a good place to start learning all these new things, let alone figure out what is what.
Thankfully, there are tools out there which can greatly simplify this process, and help you get into guitar the right way.
One such tool is the Essential Elements for Guitar – Book 1 by Will Schmid and Bob Morris. This book has been praised as one of the most effective books you can find when it comes to learning how to play guitar.
On top of that, it has been recommended to guitar teachers and tutors. The list of reasons why this book is so good is tough to count. Schmid and Morris have basically defined some of the best methods of teaching guitar to beginners that are known today.
Quick rundown

Learning how to play guitar is a process which has a practical and theoretical component. Merging the two, and balancing out how much of each you require a student to learn is important if you want to have them evolve their skill in most efficient way.
Schmid and Morris have found a way to deliver both technique and music theory lessons in a format that can be easily handled by just about anyone.
What's inside?
Essential Elements Guitar N1 is the first in a series of several books written by these two authors. The content of Book 1 comes down to the most basic music theory, playing techniques and chords.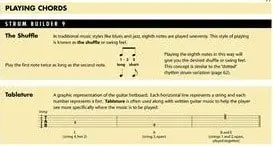 When put this way, the type of information we just listed is something you can find in just about any guitar learning book on the market. That's true, but the methods used to present that information is what really counts in case of Essential Elements Guitar Book 1.
The book starts out with most basic stuff. This includes how to hold the guitar, proper sitting positions and even how to place the guitar when you rest. It later moves into proper hand positioning, and the difference between various types of guitars.
Each chapter is formatted in a way that is very easy to follow, while there is an abundance of pictures, diagrams and other visual aids that will help you understand the content better.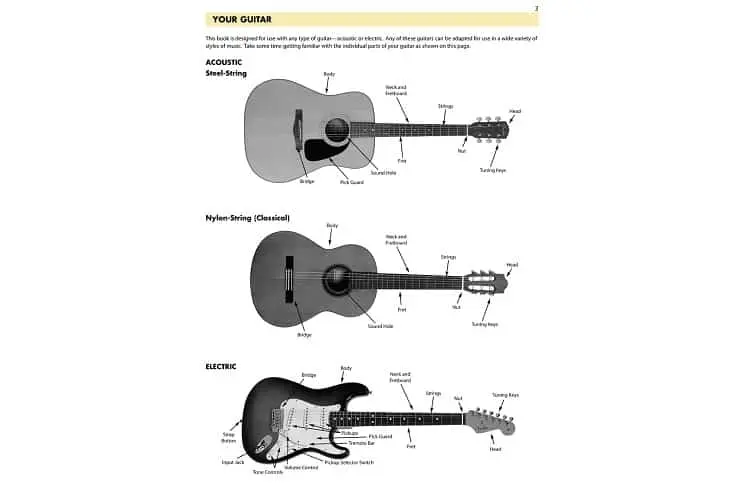 Aside from these basic lessons, this book also teaches you certain techniques through well known songs. There is a whole chapter dedicated to improvisation as well, which is something that few authors tackle at all.
How effective is this book?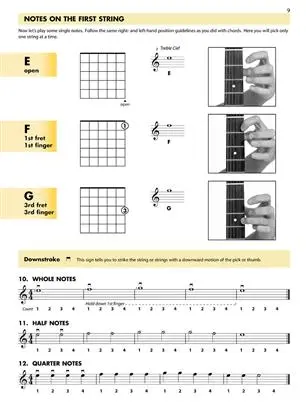 Book 1 and all of the other books in the series are compliant with National Standards for Music Education. That on its own means the book is decent to start with.
However, the way it was written, and the way the lessons are presented make it one of the best books you can get. Even if you never saw a guitar in your life, let alone touched one, this book is all you will need to develop good foundation, and learn the basics of music theory.
Many people have learned how to play guitar with this book. On the other hand, a whole lot of guitar teachers and tutors use Essential Elements Guitar books as a guide for their lessons. The way the book is written makes it suitable for a wide range of students. Anyone from a small child to a grown up person can use it with great success.

  What we like
The way Schmid and Morris have managed to present the information in this book is impressive. It's very easy to read, and anyone can follow the instructions inside. This efficient nature of Essential Elements Guitar Book 1 make it one of the best tools you can have when starting to learn guitar.

  What we don't like
There isn't a single flaw we can find in this book. It's full of relevant information presented in a way that is easy to understand by people who have no background in music.
Last thoughts
Having something like Essential Elements Guitar Book at your disposal when you're trying to learn how to play guitar can seriously cut down the time necessary to achieve your goals.
This book is very well written to say the least, and is full of relevant information. If you want a good source of knowledge about playing guitar, this is the book you want to have by your side.