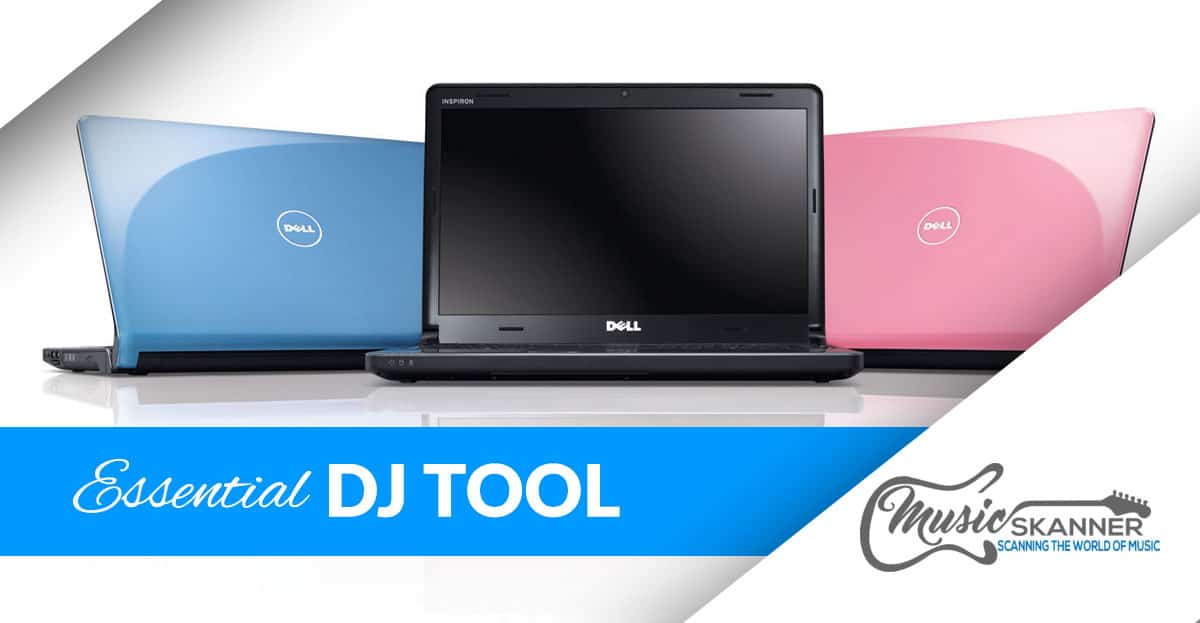 The definition of what it means to be a DJ has somewhat changed over the years. However the equipment DJs use nowadays, has evolved exponentially. Almost everything is digital, and there are numerous devices that allow you to control parameters people back in the day could only dream of. One of the most important parts of any modern DJ setup, and one that provides a basis for everything else, is a computer.
In the olden days, running a DAW required you to have a workstation PC. That was something only few people had access to. Back then Digital Audio Workstation Software was brand new, and in its infancy. The system you had to have in order to squeeze any reasonable performance out of that piece of software was not available to the broad public.
Today things are different. Even more powerful laptops can run the latest DAWs and all the accompanying plug ins with ease. The necessary requirements are reasonable under today's standards.
All you basically need to run a resource heavy DAW is a fast multi core CPU, 8 or more GBs of RAM, and a decent storage solution. In terms of CPUs anything from i5 to i7 will work on Intel's side of things, while a good AMD 8-core is a more affordable solution.
It's worth keeping in mind that core speed is secondary to the number of cores. So are there any laptops that match this description on the market? Definitely.
We have selected several models that will do a more than decent job at supporting your DJ setup.
Check out the Music Skanner List
EDITOR'S CHOICE
Dell Inspiron series comes in several different formats. You have the more basic versions of this laptop, and straight up beastly models that are just incredible in performance.
The Dell Inspiron i7559-7512GRY is about as good as it gets. It's a beefy model that features very sleek design and modern appearance. However, it's what hides inside that makes this Inspiron interesting in context of our article today.

  Features
The components that come with Dell Inspiron i7559-7512GRY are some of the best in this class of laptops. The CPU of choice is the all new Intel i7-6700HQ with a clock speed set at 2.6GHz and standard Intel multi threading. It's currently among the very top mobile processors on the market.
RAM memory is abundant, and you get 16 GB of DDR3 SDRAM which is plenty for what we need this laptop to do. Storage comes in form of a 128 GB SSD and 1 TB HDD. Having an SSD is definitely a must have if you want the best possible experience.
b It's a Truelife, LED-lit touchscreen so you don't have to rely on a mouse all the time. While we would like the screen to be a bit larger, the resolution this laptop offers is pretty decent all things considered.

  Performance
Speed and smooth operation are the best way to describe the Dell Inspiron i7559-7512GRY. There is an abundance of CPU power and RAM memory to push a resource heavy DAW along with multiple plug ins and other accessories that are usually necessary when mixing or recording music. The battery life is decent, and allows you to do some work on the go.
However seeing how CPU intensive music production can be, it's better to stick to the power adapter. Solid State Drive definitely helps when you need to load samples or plug ins quickly. Read/write speed is at acceptable levels, and the HDD is there for your main storage.
The screen, although not extremely large, is sufficient. You will have to move things around especially if you plan on having multiple features opened in your DAW. However this is something all laptops have a problem with, no matter the display size. In all essence, this laptop offers the best performance possible at a very competitive price.
Asus Zenbook is not the first thing that comes to mind when you think of laptops for DJs. It definitely should be at least in the first three though. The latest evolution of this model range offers the latest and greatest in terms of CPUs and other components.
The only thing that really holds back this laptop is the size of the display. Unlike the standard 15.6-inch panels that you commonly see on modern laptops, ASUS ZenBook UX303UB comes with a 13.3-inch panel.

  Features
This compact laptop from Asus sports a very stylish design. The exterior finish comes in form of brushed chrome metal, and the whole laptop is pretty thin. When it comes to visual appearance, ASUS ZenBook UX303UB is a 10/10. Since appearances don't mix music, we need to take a look at what hides inside this beastly little package.
The CPU found in this ZenBook is the i7-6500U that features a clock speed set at 2.5GHz. It's based on the latest Skylake architecture, and is capable of reaching 3.1GHz under TurboBoost. There is 12GB of RAM memory, which is still plenty enough although it's an odd configuration. Storage comes in form of a single 512 GB Solid State Drive, and no HDD.
Display is a 13.3-inch unit that features standard 1920×1080 resolution. This is a trade off for a compact and light form factor. 13.3 inches at 1080 is not optimal for mixing or producing music. There is just not enough 'real estate' to spread everything the way you would at home on a desktop PC. However, it's still usable.

  Performance
In terms of performance, ASUS ZenBook UX303UB delivers exactly what you would expect from a laptop that has all the latest gen components. Thanks to a great SSD, it boots up super fast. This speed is also very noticeable when you start working with a lot of different plug ins and samples.
You can load different parts of your library almost instantly. The beefy CPU is there to take care of all processing, while 12 GB of ram ensures smooth operation on all levels. If you are looking for a light and compact laptop to have with you during live sets, this ZenBook is a great choice.
Macbook Pro is no stranger to DJs and music production in general. If you are interested in DAWs and music production in general, you will probably be surprised to see the Macbook Pro in the last place on our list.
The reason for this is very simple. The other two laptops we mentioned both feature the latest generation components. We are still waiting for the new version of Macbook Pro. So until Apple announces the 2016 model, it would be unfair to place the Macbook Pro on the top of our list.

  Features
No matter how old it is, Macbook Pro is still one of the best looking laptops on the market. Aside from its stunning looks and slim profile, one of the main selling points of this model is its Retina display.
It's a 15-inch unit that is capable of supporting the max resolution of 2880×1800. However Apple limited the resolution you can choose to 1920×1200. This way you get incredible details and lots of room to work with.
The CPU found inside this Macbook Pro is an Intel Haswell i7-4770HQ with a clock speed of 2.2 GHz, and a TurboBoost which allows it to reach 3.4 GHz. Although Intel rolled out a new architecture, this i7 is still pretty capable to say the least.
There's 16 GB of 1600MHz RAM memory, which is on par with the latest models of laptops. Storage comes in form of a 256GB PCIe based SSD.

  Performance
One of the main reasons why people turn to Macbook Pro for music production are the specs, but also the unique OS X operating system that brings all of the dedicated DAWs and other goodies to the table. Macbook Pro is a fast machine, that lacks no resources when it comes to processing all kinds of plug ins and effects.
The 15-inch Retina display gives a lot of on-screen space to work with, which is always appreciated. If you're considering buying a Macbook Pro, we strongly recommend that you wait until the next generation of this laptop is released. By all accounts, that should happen pretty soon.
Finally, it may be concluded
Finding the best laptops for DJs is something that every user needs to do on their own. What kind of laptop you will choose depends largely on your personal requirements. We have shown you three great models that will do everything you need them to do and more.
Macbook Pro would be our first pick, but we just can't choose it over latest generation of laptops that come with the latest components.
On the other hand, not everyone wants to be limited by the OS X. Windows based machines support a larger variety of software and plug ins.