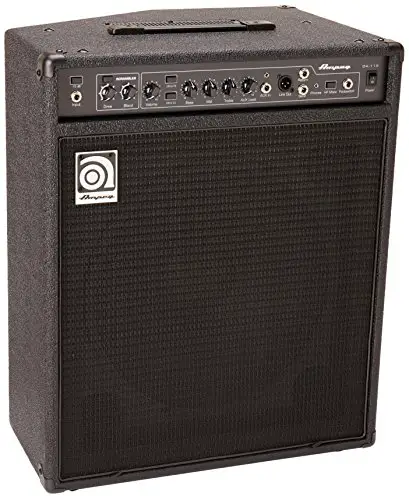 Finding a good bass amp is not the same thing as finding a great guitar amp. Different factors need to align in order for you to have a great tone.
Generally what you are looking for a is a big transducer that has some finesse to it. In most cases, bass guitar amps don't have a large high frequency speaker in them. Instead, they rely on that massive low frequency transducer to cover the full range. How successful different brands are at delivering something that fits this description is common knowledge at this point.
>> Check Out Current Price & Customer Reviews On Amazon <<
One of the most popular bass amp designs is the combo. Not only do you get to enjoy the benefits if having everything you need in one box, but you won't be lacking any power neither. In most cases a combo amp will be enough to amplify a small venue without a single problem. One combo we found particularly interesting is the Ampeg BA115V2.
Today we are going to talk about what makes this amp great, and what kind of tone you can expect to hear from it. If you are looking for a decent bass combo, you are in the right place.
Let's get into our review !
Ampeg is one of those companies who command respect of the bass guitar community. They have been around for a while, and have given us some of the absolute best bass guitar amps so far. The one we are talking about today represents a culmination of all that experience and knowledge, packed in a box that doesn't cost too much, while it offers a great performance to those who need it.

Features
What we got here is a very classic looking Ampeg bass combo that whose design resembles their earlier models in many ways. It's a decently sized model, but it is not too cumbersome to move around and maneuver.
The color choice is all black with white detailing, just like we are used to seeing from Ampeg. This is a 150 Watt amp that pushes the tone through a 15 inch Ampeg Custom15 LF transducer and a single 1 inch HF tweeter.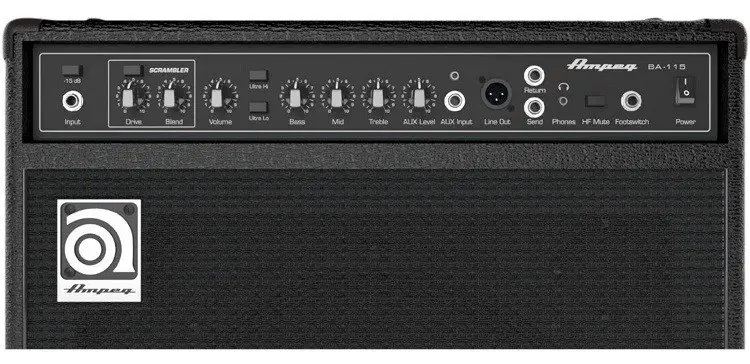 In terms of controls which are available, you are looking a pretty much standard deal. To the far left, next to the input points, we see a Scrambler control cluster that has the Drive and Blend knobs. This is followed by the master volume knob.
Next come two boost buttons for ultra hi and ultra lo boost. Next in line is a pretty standard three band EQ and the AUX level control knob.

Performance
In general, the tone is you can expect to hear from this thing is your standard Ampeg stuff. The controls we have just mentioned allow for a high level of sound shaping, and include some features you won't find elsewhere. We are talking about Ampeg's Scramble, which is essentially bass overdrive.
Whether you are playing rock or some other genre of music, Scramble cane become a very useful feature. Overall the tone is very full and well rounded. You can squeeze a lot of definition out of this amp, if that is what you're looking for. On the other hand, it's also pretty loud. Loud enough for gigging.

What we like
The size, the power, and the tone are what makes the Ampeg BA115V2 a great bang for the buck. For the price, you probably can't do any better at the moment/

What we don't like
The only thing that is really worrying about this amp is Ampeg's quality control. These are known to come with faults that become apparent right away, or after few days of use.
Conclusion
At the end of the day, Ampeg BA115V2 is the perfect solution for a budget bass guitar player who needs some quality of sound and a decent amount of volume.
>> Check Out Current Price & Customer Reviews On Amazon <<
Ampeg BA115V2 is a great gigging bass amp, and has more than enough juice to amplify a smaller venue. For anything larger than that, you will find that 150 Watts just isn't cutting it. Price is by far the best thing about this amp. You simply wont find anything as good as this for that amount of money.