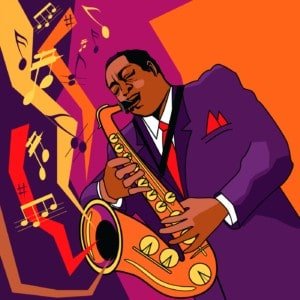 Effect pedals are not very widely used in jazz guitar. Nonetheless, a lot of modern jazz guitarists will have a few effects in their gear line-up to add interesting elements to their tone. 
As an example, take a look at Marc-André Séguin's, founder of JazzGuitarLessons.Net, selection. Notice the different (and rather unconventional) effect pedals he uses.
Today, we will show you 5 pedals you can use in jazz that will inspire new ideas and help you add even more to your creativity as you make beautiful music.
Yes, we are serious. A tuner! This pedal, of course, does not add any effect to your sound. Though, it will effectively help you by tuning your sound to be precisely where it is needs to be.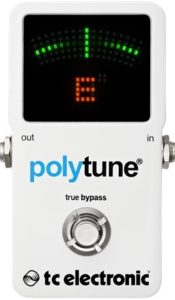 The PolyTune 2 is a life-saver for jazz guitar players sharing the stage with a whole band. With this pedal, you'll like being able to always be in tune when on stage! and Are you having to tune your instrument between two pieces? You know it happens often if you recently changed your strings.

What makes the PolyTune 2 one of the best tuner on the market is that it is a polyphonic tuner that works very well. This means that you simply have to strum the 6 strings of your guitar and you will know which ones are not in tune. Next, you just have to adjust your strings while everything is still ringing!
The PolyTune 2 is, without any doubt, a must have not only for jazz guitarist but any guitar performers.

Note that the PolyTune also comes in the format of a clip-on tuner which can be very handy. We still recommend you get the pedal since the clip can be hard to use on stage because of the (possible) noise around you.
The M160 Carbon Copy analog delay effect pedal is famous to guitar players of any musical genre. Jazz guitar players will be delighted the warmness of the delay sound of the M169 Carbon Copy.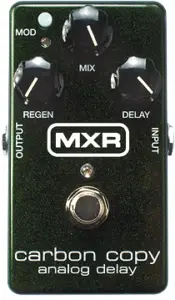 Adding a Carbon Copy pedal to your setup will give to your sound a feeling of space similar to playing in a hall. You will definitely not be producing a dry sound with this pedal activated.
Every note you play will sound like it expands to take the volume (pun not intended) it needs. If you perform in small venues, it will sound even bigger! Displaying emotions and telling stories is effortless with this effect pedal in your arsenal.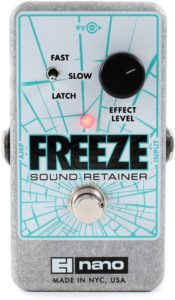 This device is a piano sustain pedal … for guitar! You can hold down chords for a very long time without physically holding the chord. This allows you to create fresh ideas when soloing over a chord that last for 2 bars or more.

Alternatively, you can also use it to hold down a single note that could be used as your pedal tone. You can get a general idea of its functionalities in this video.

Pro-tip: Freezing a couple of notes for an intro can be very effective. It will create mystery that you can kick through to surprise your listeners. It can be reminiscing of the very first minutes of Miles Davis' album, Bitches Brew.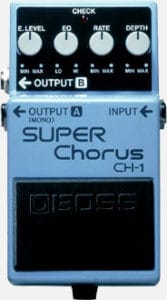 Producing a sound very present in the 80's music, the Boss CH-1 can bring a touch modernity into your jazz sound. Fast jazz lines and chord progressions played with a CH-1 will produce a haunting organ-like sound.

The Super Chorus pedal gives you a lot of control of the rate, depth and tone of the effect. You can get the full and warm sound you want by adjusting the knobs correctly. For its price, it is definitely a contender for the best chorus pedal on the market.

In addition, the CH-1 is versatile and can be used to play other musical genres which makes it a great addition to your pedalboard!
Effect pedals are often viewed as out-of-place in jazz and here we are recommending you a whammy pedal!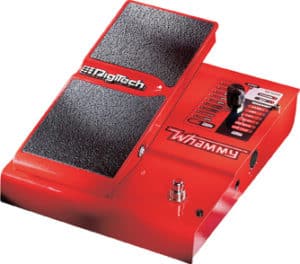 This one has been brought to my attention when I saw jazz guitar legend Jim Hall use it. This pedal allowed him to play lines without doing weird intervals on his fretboard. The best examples that comes to mind are his performances of St-Thomas when he is in a trio setup.

You can get a fresh set of lines by playing with the different models of this effect pedal without too much effort on your fretting hand.
For example: Are you currently playing at a very fast tempo but still want to play 3rds? Well, you should be playing slower in order to absorb the concepts. If you have no choice (e.g. You are on stage), the Digitech Whammy can be handy. 😉
Do you use effect pedals when playing jazz? Share your gear with us!
About The Author
Ny Fanilo Andrianjafy is a guitarist living in Canada and the Editor-in-Chief of JazzGuitarLessons.Net. His main influences are traditional music from his birth country, Madagascar, and blues. He discovered Jazz at the age of 19 and has been in love with it ever since.